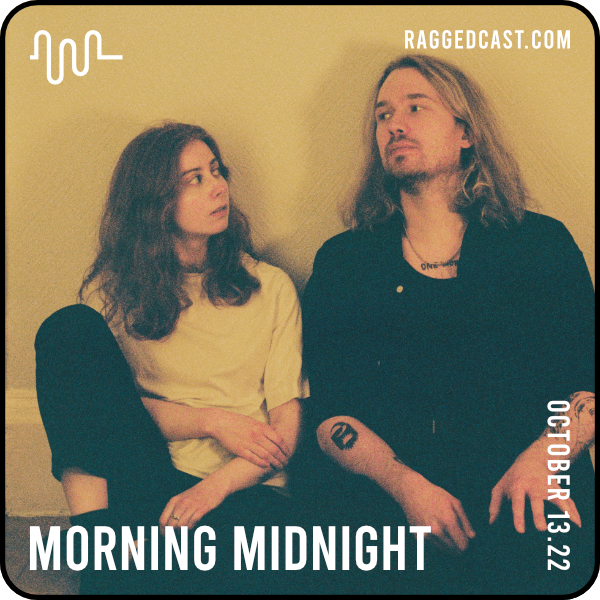 Morning Midnight is a juxtaposition that makes sense from the jump, the bedroom-pop duo are made up of singer-songwriter Jordan Scott, whose personal lyrics and soaring vocals captivate, and Jess Pascal whose background in piano, production and synthesis both ground and illuminate the group's sound. 
Their debut EP 'Swimming Lessons' was an unfiltered work that drew you into a place of retrospective feeling, and has amassed 2 million streams on Spotify alone. Lead singles 'You & I' and 'Ancoats Junction' root the bands unique harmonies and vocal layering with a raw electronic sound, weaving melancholic stories with a distinct sense of hope. Now, the new and upcoming debut LP 'Happy Hour' is an ousting into the light. Elevating the textures and storytelling of 'Swimming Lessons', the duo's new work is both fully realised and cinematic. Created entirely in the pair's living room over lockdown, the album manifests the journey of soul searching that we've all been on and encapsulates the reflection many people were forced to undertake over the past two years. The opening track 'Blurry' was featured as BBC Radio Scotland's 'Track of the Week', whilst 'Easy' has received airplay from BBC Radio 6. 
Growing up in the suburbs of Merseyside in a house that was always playing music, Jordan Scott's path as a songwriter felt conventionally inevitable. His home provided a platform for the sounds of Stevie Wonder, Shania Twain and Jeff Buckley to make early impressions on his younger self. Although, it was at 15 when he started to find inspiration for his own sound amongst indie artists such as Death Cab for Cutie, John Martyn and Frightened Rabbit. Their self-reflective and poetic approach to song writing inspired Scott to write his own songs from the comfort of his bedroom, playing to no one but himself and his insecurities. At 22, whilst studying film, a Bon Iver show in Glasgow was the catalyst he needed to finally jump-start his career. Singing in front of people for the first time, Scott went on to play open mic nights and started recording demos to send to friends, quickly realising that his music was resonating with them; with one of them being Jess. 
Hailing from the sleepy town of Lancaster, Jess Pascal grew up in a turbulent home. Her parents were both keen players of traditional Irish music, with her dad playing the banjo and her mother playing the concertina. However, it was after hearing Michael Nyman at the age of 7 that Jess decided to start her own musical journey and learn the piano. As an introverted 'tomboy' at high school, Pascal found herself a social outsider after coming out as bisexual at the age of 15. However, she found solace spending her lunchtimes in music rooms listening to pop music and learning Taylor Swift songs on piano. It was after starting college that she discovered dance music and finally found her people, having the likes of Bonobo, Four Tet and Burial on heavy rotation to soundtrack a new found love for music production. By 18, Pascal had her own tracks playing on Radio 1's late night dance shows and moved to Leeds to start studying music production. It was during her first semester at Uni when she was sent one of Scott's demos and was so moved by what she heard that she decided to quit her course the very next week. 
Morning Midnight is the story of two individuals living on the outside who have brought themselves in. A duo whose music will make you feel every emotion like it was the first time, with hook-filled melodies that bring a familiar comfort weaving alongside a lyricism that creates a longing for introspection.
---
Head Rolls Off - Frightened Rabbit (Jay) 
When I hit 16 there were a handful of artists that really had a profound effect on me and my outlook on art and the creative process in general, and Frightened Rabbit was one of those bands. What really blew my mind with 'Midnight Organ Fight' was how it could be so gut wrenchingly sad whilst also being triumphant. The production had this scrappiness and rawness to it, but the music was epic sounding and the lyrics explored these dark and heavy themes. It made me feel a way I still don't quite understand to this day. 
Brothers on a Hotel Bed - Death Cab for Cutie (Jay) 
Another artist i've been listening to since I was 16, 'Brothers' probably has my favourite instrumental of all time. Those first 90 seconds always take me to the same place, before Ben quietly pours his heart on growing old. 
Small Hours - John Martyn (Jay) 
Unlike the previous two artists, I got into John Martyn really late. I remember being on tour and our guitar tech showed me a live version of this track and it left me dumbstruck. I loved how John was a jack the lad and talked between songs like he was just down the pub with his pals, then would go off on a 9 minute odyssey of reverb soaked guitar and heartfelt lyrics. 
Nowhere Man - The Beatles (Jay) 
Growing up on Merseyside, I've been listening to The Beatles for as long as I can remember. It's constantly changed over the years, but 'Rubber Soul' is probably my favourite Beatles record and 'Nowhere Man' has always been the song that's resonated with me the most. 
Re:Stacks - Bon Iver (Jay) 
Realistically it's the song that made me want to write my own songs. What was so inspiring about 'For Emma, Forever Ago' was how simple it was, just a guy with his acoustic guitar with something to say. It felt so intimate and earnest yet not self-serious, and importantly it made songwriting feel accessible to someone like me, a young lad from Liverpool trying to find his way in the world. 
Every Little Kiss - Bruce Hornsby (Jess) 
Jordan introduced me to Bruce Hornsby's music when I first met him, I'd heard 'The way It Is" before but didn't really know his other songs. I fell in love with it straight away and he's definitely been a big influence on my piano playing since then. 
Hey Stephen - Taylor Swift (Jess) 
Taylor's 'Fearless' album came out when I was thirteen and I was completely obsessed with it. I spent my lunch times at school learning all the songs off it in the music rooms. When I met Jordan five years later we bonded off a shared love of this album and this song in particular, it was always my favourite. 
Moth - Burial, Four Tet (Jess) 
I'm so glad this songs finally on Spotify after being released ages ago. I'm just in awe of it really, I love how hypnotic the synth line is. 
You've Got The Love (Jamie xx Rework) - Florence + The Machine, Jamie xx, The xx (Jess) 
I'm a huuuuge Jamie xx fan and this is the first song of his I heard. That drop with Florence's vocal sample is just insane! 
Terrapin - Bonobo (Jess) 
I first heard Bonobo's music when I started college. I was already into electronic music but this was the first thing I'd heard that was more chilled out and organic sounding and it just completely blew my mind. His music has definitely been a big influence on me.