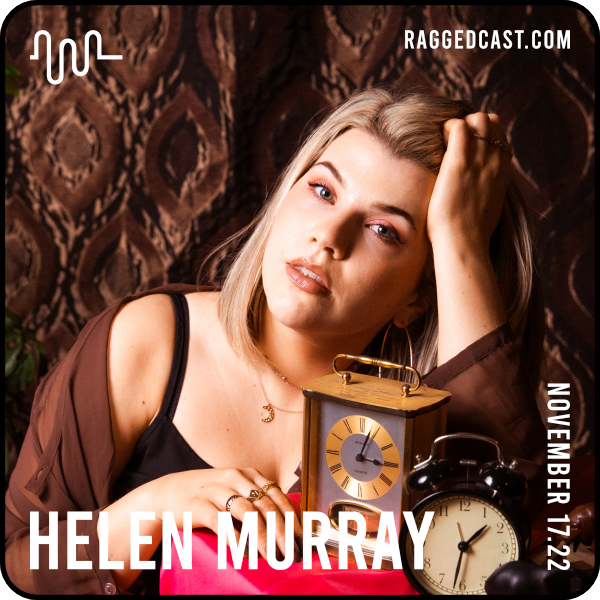 Alternative R&B Pop artist Helen Murray has received critical acclaim for her previous releases, Thank You, Move Me, and Royalty by the likes of Today FM, Spin 1038, GoldenPlec, RTE Pulse and many more. Her upcoming 
release Wrong Time is an energising and uplifting R&B Pop anthem telling Helen's struggles with procrastination. 

Ironically, Helen wrote Wrong Time about her difficulty with everyday distractions when it comes to writing and creating music. Helen mentions, "When I wrote Wrong Time, I was really struggling creatively. Perfectionism had 
such a hold on me, which then led to not wanting to write because I judged it so much". Helen continues to say, "There's a guilt that I have as a creative person when it comes to time and how "well" I spend it. I often feel I need to spend all my free time locked away in my room writing and crafting my art. When in actual fact, all my inspiration comes from living and experiencing life. I think people who work in the arts often feel the need to spend every waking moment being creative, especially if they are balancing a job outside of their creative industry. What I love about Wrong Time is I was in the depths of a creative block, but writing about it helped me to overcome the creative lull. Looking back now, I realise that was perfectionism and procrastination working its hardest against me." 
Wrong Time features a bouncing drum beat with a rich bass line to match, It's sonically inspired by artists such as Prince and Solange. Wrong Time was co-produced by Helen with producer Steven McCann, and vocals were edited and recorded by Adam Shanahan.
---
N.E.R.D - Maybe 

- I'm the youngest of 3 sisters, so I was very influenced by whatever they were listening too, stealing their CD's and tapes to discover whatever was 'cool' then. One of my sisters had the N.E.R.D album Fly or Die, and I remember always listening to it with them in the car. Looking back now, I'm 100% influenced by Pharrell's writing style and voice.
 
Crosby, Stills and Nash - Almost Cut My Hair 

- In my early teens, the iPod and Limewire era, I used to download heaps of music of all genres. My parents aren't musical so there was a lot of self-discovery when it came to listening to music and I loved listening to a variety of genres. I think I downloaded a compilation album with Jimmy Hendrix, Led Zepplin, Pink Floyd etc. Almost Cut My Hair by Crosby, Stills and Nash was one of the songs on it and I had it on repeat for a solid year of my life. I was drawn to Crosby's vocals. That gritty, raw and yearning sound in this voice immediately captured me. 
Wallis Bird - All For You 

- My first introduction to Wallis Bird was on the Late Late Show back in 2006/2007 and I was blown away by her writing and voice. That Christmas, I got her album Spoons for Christmas and played it nonstop. I started playing the guitar around that time too, and she really influenced my songwriting in my early teens. When I listen to it now I am transported to that time in my life, which is the most magical thing about music. 

Esperanza Spalding - What A Friend 

- I had listened to some jazz in my teens, but I only started exploring that genre with my singing teacher in my late teens. I discovered Esperanza Spalding through my singing teacher when I was around 17. When I listened to her music I was like this is different! Her scatting really inspired me too. Listening to her music helped hugely with my own ear training and melody writing. 

Lianne La Havas - Forget 
- I first discovered Lianne La Havas when her album 'Is Your Love Big Enough' was featured as a top album on the iTunes store. I wanted to see what the fuss was about and bought the album and definitely I did not regret that. Her music was a key part in getting me through the Leaving Cert. Her writing, her harmonies and her vocals have 
definitely influenced me hugely as a writer. 

Jessie Ware - Soul Control 
- Jessie Ware's album What's Your Pleasure got me through the Covid lockdowns, and also her podcast Table Manners with her mam (highly recommend). Listening to this album gives me an instant injection of happiness. I was lucky enough to see her live in London back in May of this year and hilariously I cried with joy, haha… She's such a brilliant performer and a big inspiration. 
Parquet Courts - Wide Awake 
- I first heard of Parquet Courts in 2019 when my friend brought me to see their set at Electric Picnic. I didn't know what to expect but it was an incredible show and since then I regularly listen to them. Their music is fun and energetic and is perfect to kick-start your day. 
The Expert - If 
- I stumbled upon The Expert, when I watched a documentary about Irish Hip-hop and they mentioned the act Messiah J and The Expert. I listened to his album Excursions a lot when it first came out. 

Sault - Why Why Why Why Why 
- Sault is a band I discovered in 2020. The singer is musician Cleo Sol, who I'm a huge fan of. This track in particular is one of my favourites from their album 5, along with Don't Waste My Time and Masterpiece. 

Beyonce - I Care 
- I was obsessed with Beyoncé as a teenager. Saw her every time she was in Ireland and was right up the top. She was a huge influence on my voice as a teenager too. This track is from her album 4, which was one that got me through the leaving cert. There's a recurring theme here to all these song picks. 

Run The Jewels - Oh La La 
- This Run The Jewels album is another one that got me through the covid lockdown.I saw them at Primavera this year and it was such a fantastic gig, I would definitely recommend seeing them!