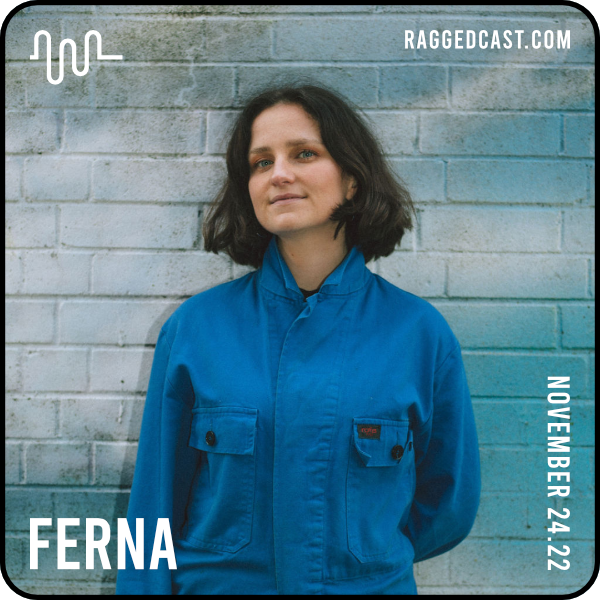 In 2017 Hannah McPhillimy, aka ferna, originally from Coleraine in Northern Ireland, moved to the US for two years to complete a Masters in Music Composition at the University of Michigan. This relocation inspired the sounds and sentiment for "New City", the third release from her debut album, Understudy (out Spring 2023). 
Exuberant synths, homemade drum kits (literally, made from a suitcase) and dispassionate vocals, this track visits both the euphoria of beginning again and the pain of having a reason to leave in the first place. 
"Trying to hold onto a sense of who you are, while also shedding an old skin. It's the tension between those things." -  
The accompanying music video, conceived and directed by artist and film-maker Alice Eugenie, is a short film depicting relocation in another way: moving home. It shows the transplant of Eliza Frew, a Greta Gerwig-esque twenty something, back to her depressing hometown. Over the course of the video, she comes to reframe it as a humble paradise. 
"One of the main themes I wanted to explore was the feeling of stuck-ness and overwhelm. I played on the origins of the song's creation in the US by flipping the concept round, creating a character who has returned to seaside suburbia in Northern Ireland." Alice explains. Both she and ferna are from the North Coast, where the video is set. 
"Eliza traverses the lines between familiarity and alienation, mundane repetition and the feeling that nothing is the same anymore. Those of us with more temperamental sensibilities will find no issue with how quickly she arrives in her New City by the end of the track!" 
Expanding on how they worked together, ferna explains: "Alice is the amazing artist behind the artwork for my singles, so it was special to have her create the video for "New City". I gave her the freedom to interpret the song for herself and I love the result. Although the character is dealing with a different move to what I wrote about, the questions are all the same: how do I reconcile my past with the life I have now? Is one better than the other? Is there such a thing as a 'fresh start'?"
Ferna tour dates 
Nov 10th - The American Bar, Belfast (Support for Family and Tribe) 
Nov 15th - The Deer's Head, Belfast (Support for Brigid O'Neill) 
Nov 20th - All in This Together, The Oh Yeah Centre, Belfast 
Dec 17th - Flowerfields Art Centre (Support for Benjamin Amos)
---
Here are some thoughts for this - hope it vaguely makes some sort of sense!! 
Low by Duke Special 
When thinking about inspirations, my mind always goes back to this song and hearing it for the first time live as a 16-year-old. It was the first time I really experienced a songwriter putting words – beautiful, simple, poetic words – to a feeling I didn't know I had or didn't know how to articulate myself. The power of that has stayed with me. So that's what I'm seeking most in my own songwriting – am I being honest and specific and revealing enough for some stranger to feel seen and less alone. 
A Commotion by Feist I am a longtime fan of Leslie Feist and I think above all it's the textures and details she chooses to include, even if – or perhaps because - they sound slightly wonky. This song holds a constant tension but that is set against these weaving, untethered backing vocals, distorted brass sections and one-off string licks. I remember reading an interview with her where she spoke about 'making room for mistakes'because they can be beautiful and I love that philosophy – feels like she's constantly rebelling anything remotely formulaic and making great music in the process. 
Should have Known Better by Sufjan Stevens This song is like two entirely different songs stitched together, but it is done so well you barely notice. Acoustic guitar merges with lofi synths, minor melts into major and the lyrics turn from gut-wrenching to life-affirming. One of my favourite things about music it takes you by the hand to go in a different journey than the one you thought you were on and this is one of the very best examples of that. 
Paradise by James Vincent McMorrow This is a banger and has been my go-to for a dopamine hit when I needed it over the last year. What a tune. What amazing production. Jammed packed with killer licks and hands in the air chorus, that means something. I aspire to write this kind of song. Can't fault it. 
Same Drugs by Chance the Rapper Very late to the Chance party but this song stopped me in my tracks. Again – the lyrics are standout. Nostalgic and tragic and full of longing and THEN there's this onslaught of incredible production moments and twists and turns. The joy of collaboration here between featured artists and players and Chance himself is also palpable. 
Expert in a Dying Field by The Beths I only discovered The Beths about a month ago but I can't stop listening to this tune. It might be it reminds me of 00s pop-punk back in my teens, or it might be the extremely excellent melodic line, clever turns of phrase, sweet vocals against the distorted guitar. Am a total sucker for some sweet, sweet juxtaposition. 
The Stranger with the face of a man by Sarah Kirkland Snider I spent some time in Michigan a few years ago and was introduced to the work of composer Sarah Kirkland Snyder. Really the whole record is just astounding – based on Homer's epic poem Odyssey, it's a song cycle meditating on "memory, identity, and what it means to come home" Here she works with brightest diamond vocalist Shara Worden and Emsemble Signal, melding electronics, chamber instruments and pop melodies to create a whole sonic world to get lost in. 
Any Dreams? By Saint Sister Two minutes, forty-eight seconds of everything I love. 
Warm synths 
Sweeping Strings 
Girl harmonies 
Devastating lyrics 
"When I said/ I didn't mind /You didn't mark /Her passing line/ What I really meant was /I wish you'd been there" 
Alaska by Maggie Rogers I could include pretty much everything by Maggie, but this was the first thing I heard and was captured by. Manages to make music that is joyful and meaningful at the same time, and an unbelievable force of energy live too. 
Sing to the Moon by Laura Mvula with Metropole Orkestra One of the best pop-orchestral albums I've listened to, where the full scope of the ensemble is used and brings something new to Laura's magical compositions. Definitely an ambition of mine to produce something similar one day!