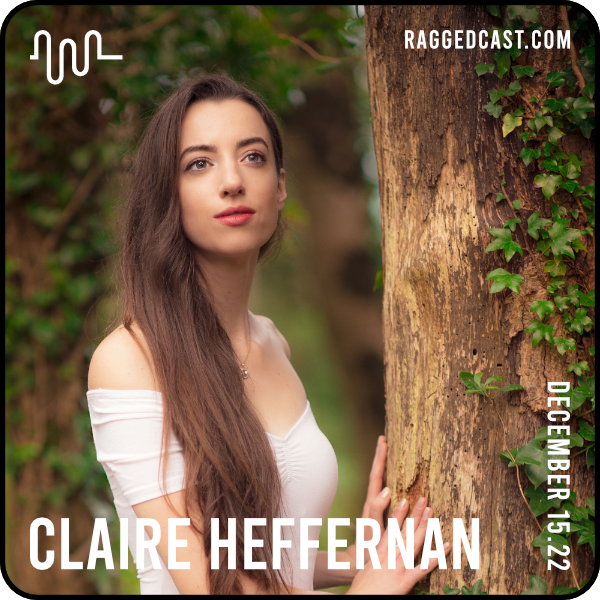 Claire Heffernan is an Irish solo artist with diverse musical influences, embracing soulful contemporary piano-vocals and Celtic harp accompaniments. 
She can equally be found songwriting, producing, recording, and performing. By her 20s she was studying music to Masters level, graduating first in her class, and it was around this time that she quickly became one of Ireland's most sought-after soloists. She could be found entertaining thousands of visitors to Ireland each year with her harp and voice at the world-famous Bunratty Castle banquets and all along the Wild Atlantic Way, while also performing nationwide as 'Ireland's Best Wedding Musician', a title held for 3 years consecutively. Most recently, she worked with Peter Foott, creator of The Young Offenders, on a feature film that is to be announced. Her diverse musical pursuits and ensemble performances have afforded her opportunities to perform in Germany, Amsterdam, Vienna and Estonia; for RTÉ lyric fm, RTÉ's Today Show, and National Geographic; as pianist for Mark Feehily, backing vocalist for Red Hurley, and solo support to Mundy. 
In 2022, she turned focus toward her long-awaited original music. Her self-produced debut single 'Snow Moon' reached No.1 in the iTunes Singer/Songwriter charts, and No.3 across all genres. Follow up single 'Gemini' was premiered by Hot Press magazine, who called it "another stunning offering", describing Claire as having "a true flair for song-creation." 
The next few months are looking exciting for this artist as she reaches another No.1 with 'Gemini', ahead of her debut EP 'Young Heart' in 2023.
---
Curating this list was a nostalgic journey back in time for me. It begins with my early teenage songwriting and music making. 
White Houses (Vanessa Carlton) 
This song was the soundtrack to my teenage years. I saw myself reflected in Vanessa Carton's singer/songwriter piano style. My earliest songs were written at the piano as a teenager. Those songs were very specific in their content and literal in their lyrics, like White Houses. 
Coffee and Cigarettes (Michelle Featherstone) 
Continuing the singer/songwriter/piano theme, **alongside Coffee and Cigarettes I entered a more brooding era of songwriting. The years of hormones and heartache had arrived! This style felt more mature in its writing. I love the gentle metaphor of trying to quit coffee, quit cigarettes, quit every bad habit, before finally admitting, "I must quit you". I spent many an afternoon at the piano singing Michelle Featherstone's sadder songs, while learning to play by ear and self-accompany. 
Us (Regina Spektor) 
The third female singer-songwriter pianist in this list… It's clear to me now why all my songwriting happens at the keys! Piano is my number one. My go-to. I never learned guitar seriously, and while I play harp, too, piano is what I studied all the way through to Masters level. Regina Spektor showed me how to be playful with the piano and explore the limits of my voice. 
Misery Business (Paramore) 
Enter the rock/emo era. I was absolutely blown away by Hayley Williams' vocal in Misery Business. It sparked an ambition to strengthen my voice and to this day I still return to this song for an energy boost. A rock band is not something I could replicate at the piano, but it's an energy I've tried to capture in some of my songs all the same. 
Juanita Cadenza (Bona Fide Federation) 
This was a band from my college, at Cork School of Music. Back then, the only undergraduate degree there was in classical music. Hearing other classical musicians, like me, crossing over to write popular music was a game changer. I adore Triona's trained voice, Pierre's piano writing, and Jess's lush cello. Pierre's piano writing inspired my earliest "adult" songwriting for piano. I wrote a number of songs in this style during college. Pierre went on to write music for film - no surprises there. 
It's Not True (William Fitzsimmons) 
It's Not True is track one from an album called Goodnight that has lived in my car for over a decade. I used to have this album on repeat, singing along on every solo car journey to far away gigs. Looking back now, the musical textures, layers and instrumentation have been absorbed into my brain. And while William Fitzsimmons and I sound absolutely nothing alike, I can see now that I have borrowed his song structures and cadences for my own songs. I remember hearing about how he had written, recorded and produced the album himself. I was definitely inspired by that. To have full creative control, and the necessary skillset to back it up, is a dream to me! 
Pieces (Liz Longley, Pat Pattison, Scarlet Keys) 
Pieces was the concluding song of a Pat Pattison songwriting course that I took one summer. During the course, the writing of Pieces (co-written by Pat Pattison) was broken down into a series of lessons as a masterclass in crafting a song. We looked at lyric writing, but also at setting the lyrics to music in a considered and emotionally impactful way. This song feels perfect to me in its writing (I say this having literally studied the song!). Sometimes, this song is the bar I set for myself when I want to write with intention. Other times, I will write freely and forget all the rules. In any case, after this course, I bought Pat Pattison's book, 'Writing Better Lyrics', which lives in my music room. 
Both Sides Now (Joni Mitchell) 
Another masterclass in songwriting! The metaphors, the "epiphany" moments! Side note: I took St Vincent's (Annie Clark's) "creativity and songwriting" course on Masterclass. She says that "every song needs an epiphany". Including an "epiphany moment" in a song was a familiar technique to me that I already enjoyed using, and it was nice to put a name to the writing technique. This particular version of Both Sides Now was recorded decades after the original. For me, its slower tempo unlocks a whole other level of depth, reflection and perceived wisdom. Taking an existing song and slowing it down, especially when it is so well crafted in the first place, can heighten the emotionality exponentially. 
In Your Eyes / Bloom EP (Mree) 
I spent a lot of the last two years being more inspired by music production than by writing at the piano. The artist Mree self-produces her songs, and her sound design is amazing, especially in her 2020 EP, Bloom. This EP inspired my first self-produced single, Snow Moon (2022). 
Saturn (Sleeping At Last) 
Saturn is the epitome of bringing together all I have talked about. The arrangement (starting with just a solo cello), the orchestration, the metaphor, the classical, the contemporary, the epiphany moment. The self-producing artist. The message of hope interspersed with themes of awe at the vastness of time and the universe. It doesn't get more epic than this. And the songwriting all starts at the piano for Sleeping At Last's Ryan O'Neal. So inspiring in every way. 
"With shortness of breath / I'll explain the infinite / How rare and beautiful it is to even exist"