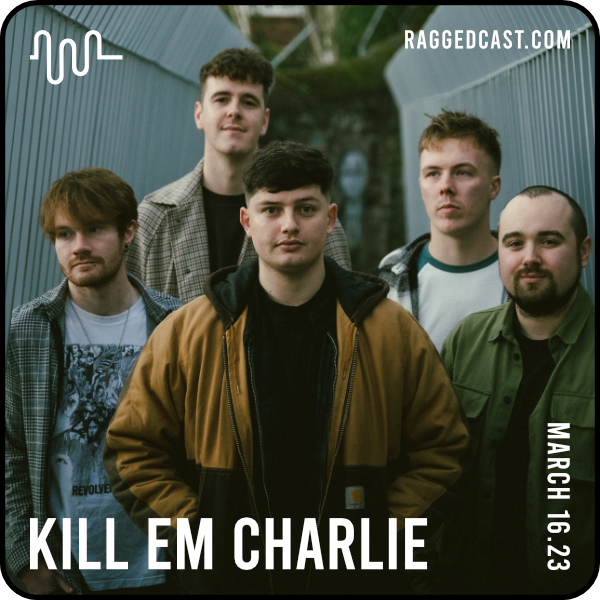 Kill 'Em Charlie are a five piece indie rock band who hail from Cork, Ireland. The band consists of Eoghan McGuigan (Vocals/Guitar), Alex Sheehan (Backing vocals, Guitar), Patrick Kirwan (Guitar), George Broadbank (backing vocals, Guitar) and Damon Walsh (Drums).
Alex, George, Patrick and a previous member started playing music together by doing Green Day covers in a garden shed in their school days. Around 2016, Eoghan was brought in on vocals and the band started to focus on writing original material. In 2019, Damon joined the band on drums and Kill 'Em Charlie was officially born. This is when the band started to get into the craft and found their sound. The band have been gigging, recording and writing music non-stop ever since. The band name came about in 2014, while performing covers and being originally called 'The Detours'. The band then found out that there was a band with the same name so they went on a search for another. Singer, Eoghan McGuigan from the band suggested the name Kill 'Em Charlie which he found from a Spider Man Comic. Since forming the band have played shows in Cyprus Avenue in Cork, Dublin's Whelans and Valley of Arts Festival in Tipperary. 
With a reconfigured line up, they released their debut EP I Hope This Works for You ('Cause it Does for Me) in October of 2020. The band's ethos is "if we think it, we can write it". Each song on their debut EP shows a different side of the band's personality as they want to get across how versatile they are with their sound and song writing attitude. The band's previous releases are a glimpse into their foundations and their influences. Their inspirations include the likes of Kings of Leon, Fontaines DC, Arctic Monkeys and Franz Ferdinand. Their sound has been described as "sweet melodic goodness wrapped in a punchy indie array of sleekness". With the release of their single, Hazey in late 2021 and the live EP Live at Rebel Recordings in the summer of 2022, the band further built upon the foundations of their 2020 debut. They are now super excited they get to showcase how they have developed their sound and built on those foundations with their second upcoming studio EP No Ties To The Morning which was released on February 17th. The band feel this is a definitive statement of where their sound has developed to this point and is a statement of intent going forward. The first single off the new upcoming EP is titled Local High Roller which dropped January 27th marks an exciting new year for the band as they hope to take their career a step further.
The EP 'No Ties To The Morning' dropping this February.   
 
---

1. I Bet You Look Good on the Dance Floor - Arctic Monkeys
George: This song was one of the first songs we played as a band and became a staple in our set when we first started out. We are heavily influenced by the early Arctic Monkeys albums but this song really opened the   indie door for all of us and you can definitely hear that in our music 
2. Basket Case - Green Day
George: Our first ever gig was basically a Green Day cover show, and I would class Mike Dirnt as one of my idols and my bass playing style has been heavily influenced by him. 
3. The Fox and The Deer by Dry Roasted Peanuts 
Eoghan: We started out in the Cork scene doing battle of the bands and all that jazz. Around that time Dry Roasted Peanuts were the big thing locally and we actually played with them at the college intervarsities. Besides all their songs slapping anyway this one influenced how I went about singing some of my own songs in terms of singing in a bit of a lower, more relaxed register instead of trying to screech all my lines haha
4. Obstacle 1/Rest My Chemistry by Interpol
Eoghan: I had an idea of how I wanted songs I wrote on guitar to sound in my head, but there wasn't a band I'd listened to before that I could really pin that sound to. Then when I discovered Interpol (fairly late on) I knew instantly this was the sound I was trying to get!
5. Supersonic - Oasis
Patrick: It'd be hard not to mention Oasis as a guitarist. There's nothing like a good pentatonic melody to make you feel great and safe at home in familiar territory! It just makes for easy listening. I'd always favour a simple guitar line that makes you feel good, over something complicated and meaningless. Stop showing off!
6. Way it Goes - Hippo Campus
Patrick: Again from a guitar / melody point of view, Hippo Campus have a magic touch when it comes to sprinkling little guitar lines throughout songs that you can feel deep down inside you. You didn't know you needed it until it kicks in, and then you can't live without it. It's like a big hug for your ears. 
7. Helicopter - Bloc Party 
Alex: This song was a big inspiration to us as we used to play it as a cover. I think it introduced us to harmonic techniques that we could use for our guitar riffs to make them more interesting.
8. A Hero's Death - Fontaines DC 
Alex: I feel this song is important to us even if it is not our favourite Fontaines song. This song showcases that you can have your lyrics come blasting at the audience in a poetic style without over saturating them with words. We have definitely put this to use in our more recent songs.
9. Acrobat - U2
Damon: Achtung Baby is one of my favourite albums ever and has been for a long time. Acrobat is probably something of an underrated song off that album but it's a real drummer's song - Larry Mullen is a big influence on me as a drummer and this song sort of sums that up. 
10. Some Mutts Can't be Muzzled - Amyl and the Sniffers 
Damon: A more recent one but there's definitely been an influence on us from bands like Amyl and the Sniffers when you listen to some of the stuff off of our new EP. Unashamedly trashy rock music, straight to the point and no messing. Our songs Ciao Bella and we Oh No definitely follow that sort of form as well.