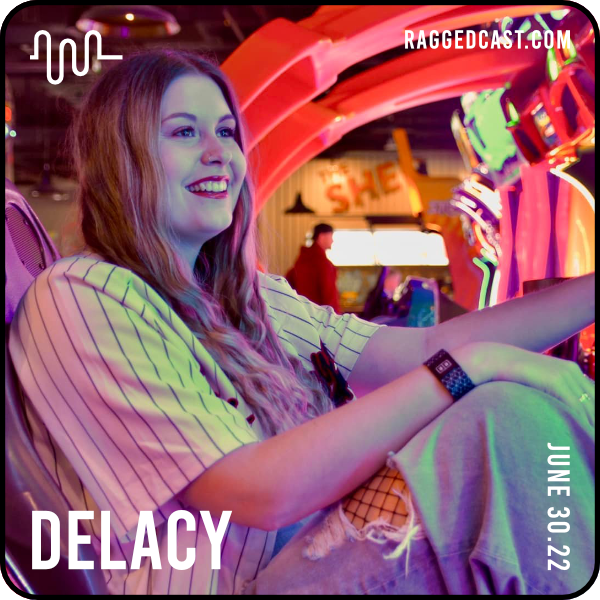 Less than a year after releasing her debut single 'Rewind', Dublin born singer-songwriter Delacy is back with her newest pop/funk single 'Problem', out on Saturday June 18th. 
'Problem' is all about finding the lighter side in life, and trying to rise above false promises and insincerity. Life can be full of surprises and challenges and so writer, Delacy, composed this song to remind listeners it's ok to laugh off the little things. The explosively feel good melodies, high energy vocals and chant-like bridge, further the message behind the song that you can't let other people and their problems get you down. This truly infectious song makes for a perfect track to get you through the summer. Delacy's music follows a pattern of positivity and upliftment. This pattern can first be seen in her song 'Instead of Demons'. The song, which went on to win the HotPress 'Now We're Talking' songwriting competition, covered the topic of mental health awareness and told listeners "Don't let in dark cause you know we all have scars [...] instead of demons search for stars". The importance of upliftment stuck with Delacy and can even be seen in her debut single 'Rewind', which reminds people to check in those around them. After performing and honing her songwriting for over a decade; as well as completing her degree in Commercial Modern Music with BIMM, Delacy is currently furthering her musicianship as a songwriter, performer and producer while living in Vancouver.
---
Don't Lose Sight - Lawrence
Don't Lose Sight is my absolute favourite song at the moment and has had a huge influence on my latest music, including my newest single. The large funky arrangement, group vocals and optimistic message blend together all of my favourite things in music. I love arrangements that feel like you're almost in the room with a band just having a good time and this song felt even larger than that. 
Sober - Pink 
Pink was one of the first artists I really looked up to and her Funhouse Tour ended up being my first ever concert. This song really made me realize the emotion music can bring. I always knew I wanted to be up on stage but most of the music I listened to was by men. Seeing her performing this song live was probably the first time that I could actually picture myself on stage and working towards that dream. 
Bennie And The Jets - Elton John 
I still remember hearing Bennie And The Jets for the first time in the car with my dad. It was so different to anything I had heard before, with so many unusual sounds and this amazing outro that seemed to go on forever. Elton John is absolutely one of my biggest influences as an artist, but I remember this song really made me think more about the arrangement side to songwriting. 
Viva La Vida - Coldplay 
Viva La Vida may be one of my all time favourite songs. I became obsessed with it early on and it still holds a special place in my heart. I've always loved pop music that blends with orchestral instruments and this song felt larger than life, especially when the bridge builds. 
Vienna - Billy Joel 
To this day, I think Vienna may be one of the most beautiful songs I've ever heard. Piano was the first instrument I learned to play and Vienna definitely made me want to be a better pianist, as I wanted to learn it so badly. The older I got the more the lyrics started to resonate with me. I'll never get sick of hearing that song. 
Mr. Blue Sky - Electric Light Orchestra 
Mr. Blue Sky is the song that sparked my interest in producing music. I've always gravitated towards upbeat, happy music but this song was so much more than that. It takes you on this huge journey of disco-like pop, to powerful orchestral magic and ends with this futuristic rock that feels like it could be an entirely different song. I remember at the time, I was still playing and writing very much singer-songwriter music with just me and my guitar. This song made me want my music to be so much bigger. 
Animal Spirits - Vulfpeck 
Animal Spirits made me realize what I've always wanted my music to be. It's the perfect blend of energetic, fun, irresistible funk. Hearing this song felt like connecting all of the dots. For so long I didn't know what genre my music fell into, or what genre I even wanted it to fall into, but hearing Animal Spirits made me instantly know. It just felt like a group of friends in a room jamming together and having a good time. 
Sincerity is Scary - The 1975 
The 1975's music can vary so much album to album and I've always loved almost everything they've put out, but Sincerity Is Scary is definitely my all time favourite of theirs. The mix of the gospel-like group vocals and huge brass section, with their typical 1975 synth sound, is just heaven to my ears. Their lyrical style is also something I've always aspired for. They use many references to the likes of postmodernism which results in this super descriptive image that could be applied to many different areas of life. 
Fine Line - Harry Styles 
Fine Line is another song that blends large orchestral music with pop. It's arranged so beautifully to build with this sense of optimism, that perfectly matches the lyrical content as the song climaxes. I couldn't get over how perfectly the music and lyrics paired together and it really made me look at my song arrangements in a different light. 
Afterglow - Ed Sheeran 
Ed Sheeran would've had quite a large influence on my music in my teens. I loved his style of performance and really aspired to be able to fill an arena with just my voice and guitar, like he was doing at the time. Afterglow was one of his more stripped back songs in recent years, which really reminded me of his earlier music when he'd play the more stripped back shows
---