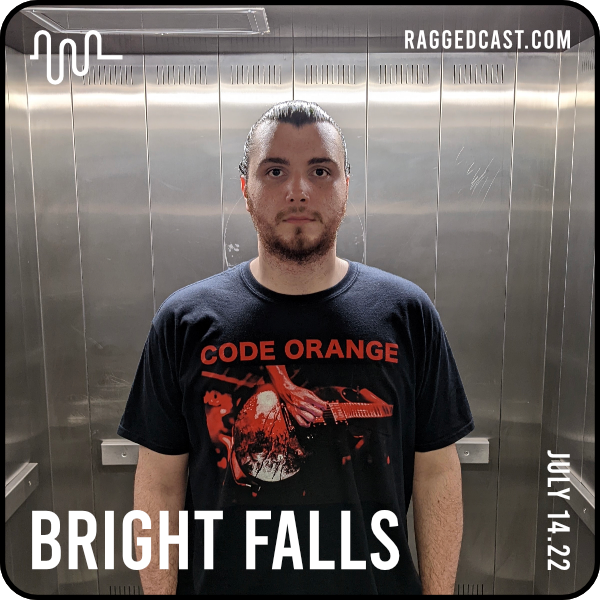 Bright Falls is the project of Thurles, Ireland, recording artist Eddie McCormack, who's blend of 
alternative & heartland rock with early 2000's indie rock creates guitar and synth infused music 
while lyrically taking a narrative approach to songwriting, leading to a melodic coalescence in the 
vein of artists such as The Killers, The War on Drugs & Bruce Springsteen. 
Shortly after the release of their debut EP 'Logging' in July 2019, Bright Falls, with a full band, were 
asked to open Féile '19 in Semple Stadium, Thurles, alongside Sinead O'Connor & The Stunning. 
After the release of the singles 'The Widows' Homes' in 2020 and 'Cassie (My One & Only)' in 
2021, Bright Falls return with 'Dusk', the title track from the debut album from Bright Falls which is 
set to be released in October 2022. The music of Bright Falls is driven by nostalgia, an appreciation for an array of musical genres, and an obsession with long-form storytelling through songwriting. 

Dusk is a song of longing to the early days of a relationship, whilst being caught in the midst of 
confusion and a clear lack of communication, and being desperate to find resolution: 'Send you to 
sleep, all your dreams in dusk, Tell me how we can make it work?' 'Dusk' opens with an arpeggiated bass synth pulsing over a bed of ethereal pads and glistening synths, before setting into layered guitars and an intricate drum pattern played by Kevin Callanan. On the chorus the track opens up propelled by a driving bass line played by Tom Shorley, with a melodious hook reminiscent of The Killers. The dynamic track crescendos with a flurry of synth mixed with guitars and beating drums but ultimately leaves our opening arpeggiated bass synth falling deep down into the unknown, leaving us to wonder what is next? Dusk was produced by Martin Quinn & Eddie McCormack and was mixed, mastered and recorded by Martin Quinn at JAM Studios (Aine Cahill, The Strypes) in Kells, Ireland. 
Dusk the single is available on all streaming services from 8th July. 
Dusk the album is scheduled for release 28th October.
---
Kanye West - Street Lights 

808's & Heartbreak was one of the main inspirations for the debut Bright Falls LP 'Dusk' (coming 
out this Autumn!). The tone of this album was what caught me when I first heard it. It is such a 
heavy and mournful record where West confronts the loss of his mother, Donda, and the break up 
of his engagement. The feeling of isolation created with the most beautiful use of Auto-tune on his 
vocal throughout the record is truly haunting. The forlorn figure West paints on 'Street Lights' sums 
up this record perfectly for me. Cinematic, influential, heartbreaking. Everything music should be.

Brand New - At The Bottom 

If there is one album I wish I had written it is Daisy by Brand New. Everything about this record is 
perfect. The attention to detail on the guitar tones is something that particularly influenced me, not 
to mention some of the finest lyricism of the 20000's from both songwriters. When I am writing 
guitar parts I usually just think to myself 'what would Vin Accardi do here' and go from there. 'At 
The Bottom' may be one of the finest tracks from Brand New's songbook, with some of their most 
beautiful and morose lyrics: "Some men die under the mountain just looking for gold, some die 
looking for a hand to hold." 

Turnover - New Scream 

Turnover, much like Bright Falls, have a tendency to completely change their sound up with each 
release. The 'Peripheral Vision' record is my favourite of theirs, produced and mixed by one of the 
true greats of this era Will Yip. This is another break up record on the list… but it does it perfectly. 
A fever dream of nostalgia in 39 minutes. 'New Scream' is an absolute dream pop masterpiece I 
love everything about it, the vocals, the pads, the reverb. 

My Chemical Romance - Hang 'Em High 
I picked up a guitar because of Frank Lero from My Chemical Romance. I was watching all these 
videos of him playing live and I had never seen anything that raw and energetic in music before… 
or since. Little did I realise how much Gerard Way's lyricism would influence me, before I wrote 
'The Widows' Homes' I think every song I had written at that point was a murder balled or a tale of 
revenge. I thank this record for that. Gerard has this ability to make his songs seem so cinematic, 
which is exactly the way I want my songs to feel. Hang 'Em High is like nothing else. This band 
transcends genre. 

The Cribs - We Share The Same Skies 
I'm from Thurles, which is a relatively small town with a massive music scene with all sorts of 
bands and songwriters. One thing we all seem to have in common, from generation to generation, 
is our love of Johnny Marr. This is my favourite Johnny Marr album and as great as The Smiths, 
Modest Mouse, The The, etc are 'We Share The Same Skies' just hits different for me. I feel like 
the Jarman Brothers gave him a different type of energy. More arpeggiated guitar parts! 

The War on Drugs - Disappearing 
I think this is the only band that everyone who plays with me in Bright Falls actually listens too. 
Adam has been on another level since he released 'Lost In The Dream' way back in 2014. I feel 
like this track represents what they do best. The lush synths and keys, the drum machine keeping 
the track rolling, his vocal all coming together to put you into an ethereal trance. This is the perfect 
record to go on a road trip with. 
The Devlins - There Is A Light 
I have so much nostalgia for this song, it's one of those songs that has stuck with me since I was a 
child. This is just one of those songs that has that vibe. You know the one? Of course you do and if 
you don't just listen to it. I love the instrumentation on this song. The lyrics and vocal delivery from 
Colin Devlin is just a perfect match. I feel they created something truly special here. This is actually 
my favourite song to ever come out of Ireland, which is a big statement… but whatever. There is 
one song that is going to be on the Bright Falls record where I just wanted to create the feeling that 
'There Is A Light' gave me. I think I got there in the end. "Freedom is useless to someone who's 
never been free, and a church full of angels point to where you want to be, high up in your heaven 
happiness opens its wings, and beats them in time to the rhythm of silence". Incredible. 

Bloc Party - Waiting for the 7.18 
There is so many layers to 'A Weekend In The City', a record based on the various different 
experiences of living within a city. This record touches on alcohol and drug culture, racism, 
terrorism, suicide, fear mongering in media, the exploration of sexuality, but it is in the escapism of 
'Waiting For The 7.18' which provides one of its most fascinating observations of city living. There 
is a part of me that has always been fascinated with the most mundane parts of people lives, and 
its something I enjoy writing about too. Kele here sings about the winter commute, trying to distract 
oneself from reality with "crosswords and sudoku". When he hits us with the bridge of "lets drive to 
Brighton on the weekend" there is just this great catharsis for me every time. 

Bruce Springsteen - Tunnel Of Love 
This record is probably my second favourite Springsteen LP after Nebraska. Yet another break up 
record on the list. But what really influenced me from this record and from this track especially is 
his choice of instrumentation. I love how he went all out with synthesizers and drum machines. It 
was a definite shift musically for him and I feel lyrically this album is Springsteen at his most 
personal. "You've got to learn to live with what you can't rise above". Hell yeah Bruce. 

Title Fight - Numb, But I Still Feel It. 
Yet another Will Yip produced album, this is one of those bands that launched thousands of bands. 
Hugely influential within their scene. Last summer when we were recording our record I was 
listening to so much Title Fight, especially their album 'Floral Green'. These are some of my 
favourite heavier guitar tones. This is such a great melodic hardcore record, massive drum sound, 
emotive vocals from Ned Russin. "I wish I could get over this feeling of slipping under, I never get 
that far." Here's hoping they make a return.