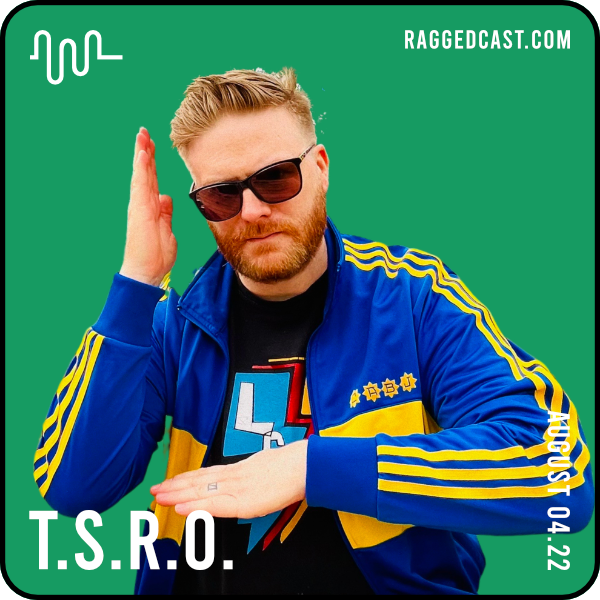 The Swedish Railway Orchestra is the brainchild of Dublin musician and producer Rob Smith. 
Initially a DJing duo which included Daniel Lambert, TSRO became late night specialists with their odd remixes and dark club vibes, playing clubs in New York as well as their native Dublin, and even headlined the Vantastival festival in 2015. 
Testing the waters with original music on his own in 2016 with Northern Lights, Smith began to turn heads a year later with the single I Don't See Any Daylight Anymore. 
Later in 2017, with the lead single Why Don't You Talk To Me, the debut album This Is A Dream was released to critical acclaim. Many of the record's singles, including Bullet For A Bullfighter gained much national radio airplay across Ireland. Less than a year later arrived the five-track You Can't Have It Your Way E.P. which featured the darkly themed clubnight-favourite Death Of The Disco Tape. 
In 2018, the Dubliner released Remixes Vol. 1, which featured some incredible re-imaginings of many album tracks and singles up to that point. A work so strong, Smith was invited to play TSRO remix DJ sets in cities such as Buenos Aires, Barcelona and Berlin. 
The following year the album This Is A Mixtape was released to much praise, which featured singles such as Cold Condensation, Wy Bk Hm as well as the Brian Jonestown Massacre-inspired The Subjection. 
But it was in 2020, where the greatest acclaim was achieved with the self titled third studio album which featured the single The Freaks Come Out At Night which was a mainstay on Irish radio that summer, and to this day it is still held in high regard and played by some of the UK and Ireland's most well known DJs in some prestigious clubs. 
The new album, arguably the act's best work, Dance To The Drum Machine was released on July 27th 2022.
---
FACT 67 - THE BRIAN JONESTOWN MASSACRE 
BJM makes only good records. And always have done. There's something about this mix of the heavily reverbed guitar that sounds like it could be from a 1960's spaghetti western, the deep bass guitar that sounds like Jah Wobble and a dance beat is just an amazing combo. Anton Newcombe truly is a genius and tracks like this strengthen that opinion. 
I WANT MORE - CAN 
I've been trying to rip off Can as long as I can remember, failing every time. It sounds so simple to listen to, but try to create something like this. It's absolutely genius. It's a mainstay in my DJ sets too. 
THE OLDEST MIND - JAPE 
I wish I had Richie Egan's knowledge and talent when it comes to making music, but I am light years away from even coming close, so all I can do is admire the work. The album Ocean of Frequency is truly exceptional and this is the stand out track for me. I love the production on all of the records, but for me, this one is off the charts. 
ELEPHANT STONE - THE STONE ROSES 
The Stone Roses at their peak made records that would rival just about anyone. Some of it is truly otherworldly, so it was no surprise of the fanfare when they reformed in 2012. This track in particular showcases the greatness that is Reni on drums. Mesmerising stuff. It's long been a favourite. 
HAIL HAIL JOHN CALE - COUNT VASELINE 
Count Vaseline was a short-lived project from Stefan Murphy (former frontman with The Mighty Stef), and he made two great albums in a short space of time. The album this is on is something like 13 minutes long, so I knew it would be great. And it is. Stef's work ethic and songwriting is very, very inspiring to me in a lot of ways. 
HOW DO YOU SLEEP? - LCD SOUNDSYSTEM 
All of LCD's albums are really great for different reasons, but I really thought American Dream was incredibly diverse in feel and tone. This song being an obvious standout for its haunting massive synths which somehow go eventually into a danceable scary song. Quite a mix. It's completely different and completely brilliant. As is much of their stuff. 
EVERYBODY'S GOT SOMETHING TO HIDE EXCEPT FOR ME AND MY MONKEY - THE BEATLES 
There's nothing I can say about The Beatles that has never been said before. They have been my favourite band since I was a child and The White Album is my favourite album (probably by anyone ever) and tracks like this are part of their genius. 
GET IT TOGETHER - BEASTIE BOYS 
I was 11 or 12 when Ill Communication came out and it was a big album for me and my friends. Ever since we saw the video for Sabotage on MTV, we were hooked. I used to love reading the lyrics and liner notes in the cassette, and there were a lot of them. I've read a few times people saying there's some filler on that record but I strongly disagree. That album played from start to finish is a treat and I recommend you do so. 
2020 - SUUNS 
Suuns are a criminally underrated band. But I've always found them massively inspiring with their technique and production. I've nicked a few ideas off them over the years, such as the slide guitar part in this song I've copied once or twice - most recently on my new album with the song I've Funded This Inferno. But Suuns are amazing. Can't recommend them enough. 
TOUCH THE LEATHER - FAT WHITE FAMILY 
When I started TSRO, I made two rules; never do a live gig and never cover anyone. I broke that rule and covered this song on an extended digital version of the last record. Like much of their music, I was attracted to how dirty and weird and great it sounded. I can see and hear the beauty in their sound of squalor. You have to admire them.