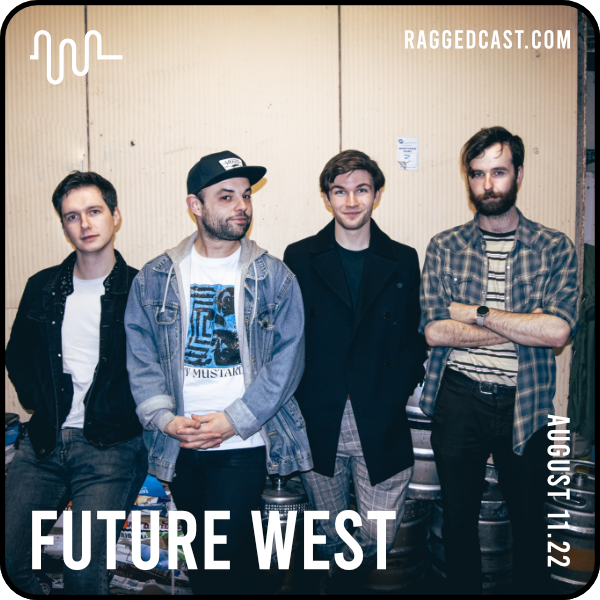 'Who Will Forgive All My Sins', the new album from Future West is out August 19th via Blowtorch 
Records on LP, CD and Digital format. The 9 track album was recorded by singer/composer and frontman Francis Watters at the band's home studio in Dundalk, Ireland in the Summer of 2020. It was produced and mixed by Peter McCoy and Pauric McCrum of Pillowhead Productions (also part of the Future West live set up). The album is an exploration of loss, regret, self-sabotage, maintaining good mental well-being and missing loved ones with a large chunk of Watters' emotive, witty and thought provoking lyrics being lifted directly from his personal journals.
Watters takes up the story - "Is it a concept album? No! But a lot of the songs do revolve around similar  
themes and the track running order, coincidentally, does tell a somewhat cohesive story depending on  
what way you interpret the words. For me, it's a project that I felt I had to do to help lay some of my inner  
demons to rest. And also with the hope that other people can listen to the music and words and realize  
that even at one's lowest point, things will always get better. There is always hope, no matter what."
The band will be doing a handful of Irish shows to promote the album with U.K dates planned for early 2023. They will play The Spirit Store, Dundalk (August 20th), Annessley House, Dublin (August 27th) and Vantastival Festival, Drogheda (September 16th).
---
Beach Life In Death - Car Seat Headrest 
Lyrically, Will Toledo his influenced me immensely. His relentless honesty in what he says grabbed me from the moment I heard them. This song in particular is a favourite of mine from him. And it's 13 minutes and pretty much the same chords from start to finish except the short slow section in the middle. 
Ize Of The World - The Strokes 
Anyone who knows me knows The Strokes would surely be included in a list like this. But I wanted to pick a lesser known track by them. This one is one of my favourites of all time. The intensity of the chorus, the structure, the arrangement. It's perfect to me. 
Human Sadness - The Voidz 
I had to include The Voidz as well with Julian Casablancas being such a big influence on me. This song was the first official release by them and upon hearing it, it made me realise that anything at all is possible when it comes to music. 
Pacific Time - The Cribs 
I love The Cribs. And Gary Jarman's vocal delivery in the last section of this song really opened doors for me when it comes to pushing your voice to its limits but not shouting or straining yourself whilst doing so. 
Motown Junk - Manic Street Preachers 
The Manics were my first musical obsession if you will. My older brother got me into them when I was like 6 or 7. Their debut single Motown Junk is still arguably the best debut single by any band out there. The energy is just phenomenal. 
I Bet You Look Good On The Dancefloor - Arctic Monkeys 
I probably listen to most Arctic Monkey's songs more than this one. But this is the one that made me really want to play guitar as it's one of the first songs I ever learned. I was amazed that something so easy could be so good. 
Violence - Blink-182 
Blink-182 was another early music obsession for me. I used to hate them until I heard the untitled album that this track is on. The production is off the wall good. Especially in the breakdown with the ethereal, reversed vocal part. The drumming on this one is also quite peculiar for a blink tune with the shakers and wood block loops etc. 
368 - Jamie T 
Jamie T pretty much got me through secondary school and also taught me that if you want, you can record a record by yourself in your bedroom and put it out. I love his lo-fi DIY aesthetic on his first two albums with this track being my personal favourite of his.