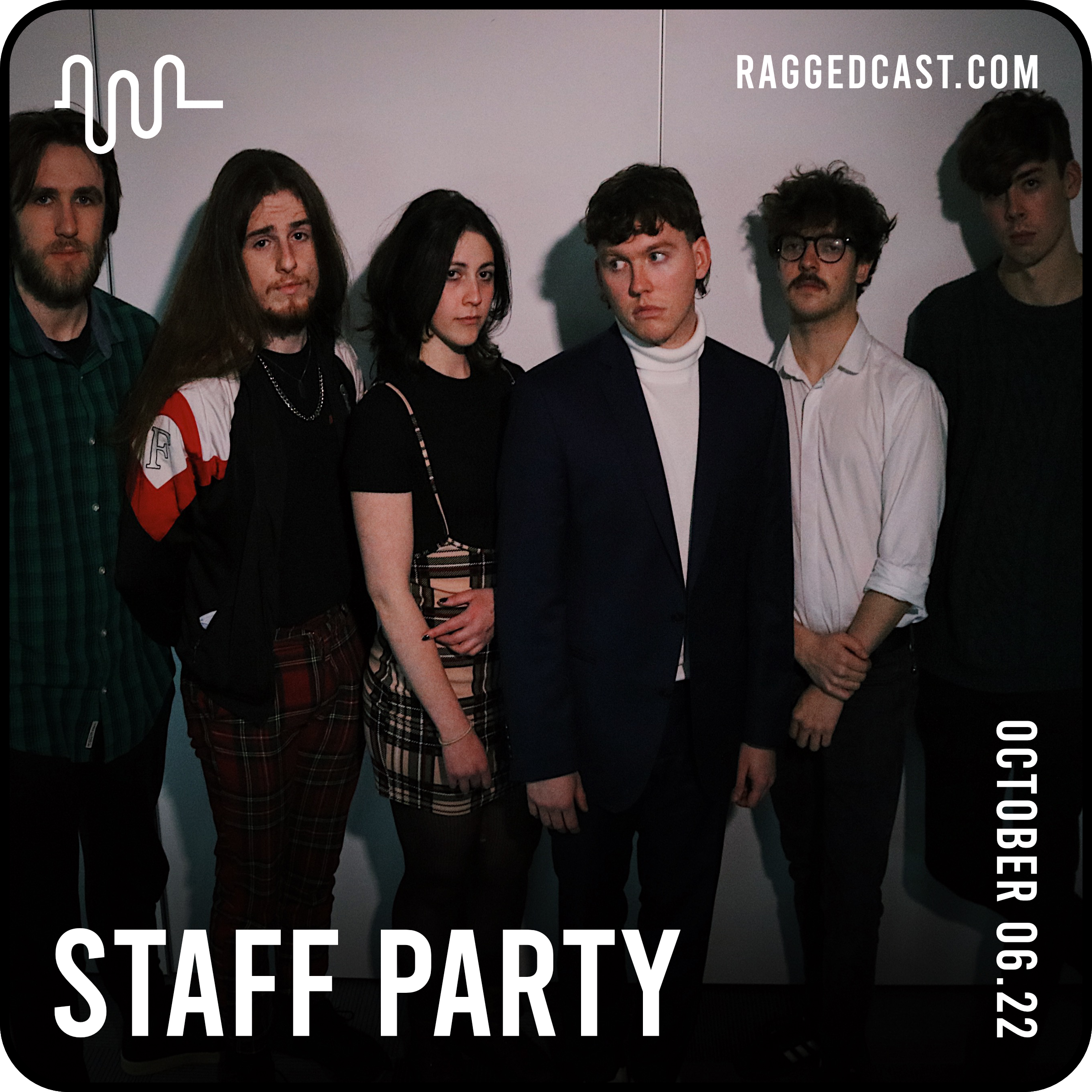 Staff Party are a 6-piece indie-rock/dance-punk band based in Cork, Ireland. The band consists of Jamie Kierans (Vocals), Jake O' Driscoll (Guitar), Daniel Maguire (Guitar), Christopher Hockey (Bass), Alexa Newall (Keyboard) and Jack O' Hanlon (Drums). 
    Staff Party burst onto the Irish music scene in Spring 2022 with a sold-out show in An Spailpin Fanach, Cork, starting as they meant to go on. In the following months, the band made their stamp on the local scene with a series of high-energy, sell-out shows in various venues.  A thirst for rock'n'roll was met with a passion for dancing. 
    After the success of their live performances, the group took to the studio to work on their first single. Having recorded, produced and mixed the material by themselves, Staff Party are set to release their debut single 'Solo' on September 22nd 2022, along with a remix of the track created by Jake O'Driscoll, one of the group's guitarists. 
       Initially, indie-rock was the core influence for Jamie's songwriting, but the band shifted the writing into a direction more inspired by dance beats and heavier guitars. Each member brings something different to the table with their vastly contrasting influences, from math-rock to jazz, with the combining influence being dance-punk. It's all these varying elements which gives us the unique style of Staff Party. 
    However, their ethos is just as important as their sound. Staff Party want to have fun. They want to make music that is dedicated to having a good time. They want to dance, sing and shout.  "There seems to be quite a lot of sad music being released in the world today, and we want to do what we can to put a bit of joy out there. And that's our mission statement. We'll do everything we can to have a good time, and you're more than welcome to join us."
---

1. Here's The Thing - Sports Team 

I think what I love about this song is the manic energy. The song has a great positive energy all the way through, and the call and response thing is really fun, but when it gets to the end... You've got Ricey and Rob just going absolutely ham on the lyrics and it feels class. It feels like you're at a live show. The energy from it is contagious. 

2. At Most A Kiss - Blossoms 

Blossoms are a class band and have used loads of synths on most of their tracks, but for some reason I find the synth in this tune to be particularly roaring. I love how the start of the song is so immediate. Everything kicks in straight away with such umph. I saw them open with it at a live show and it was like 'Oh okay, here we go'. The production is also all-round unreal. It's one of my favourite sounding tracks. Shoutout to James Skelly on that one. 

3. Brianstorm - Arctic Monkeys 

It almost feels silly to include this on the list because it's such an obvious one. What is there to even say? It's just absolutely banging. All the parts are so class. Matt Helders just destroys the kit for 2 minutes, Alex shows off his witty lyricism along with some biting guitar riffage, Nick gets his spotlight moment, Jamie has some class lead lines with his iconic leslie speaker guitar effect. It's one of those tunes where every part is worth learning. 

4. Too Real - Fontaines DC 

I just love the attitude in this song. It's absolutely one of my main hype tunes. If I want something to get me fired up, this will definitely do it. I love Grian's vocals as always, great character in them, and he's definitely a vocal inspiration of mine. The band have a great balance of showing off their musicianship as well as just making blistering noise. Tom Coll aced the drums on this one. 

5. Mr. Motivator - IDLES 

Again, another hype tune of mine. This is one of the most POWERFUL sounding tunes I've ever heard. It sounds so meaty and rocky. It's almost like the song itself has chest air. The lyrics being spat out of Joe Talbot are brilliant as always, and the guitars just sound so fierce. Proper rockin' tune. 

6. I'll Try Anything Once - The Strokes 

This is just such a lovely tune. It's rare for a song to keep my interest when all the sections are so different. The three verses all feature some of my favourite lyrics. "When I said, 'I can see me in your eyes', you said 'I can see you in my bed". I just love that. The song feels like it's looking back and reflecting on growing up and youthood, but from a distant point of view. It holds a dear place in my heart. 
7. Who's Your Money On? - Inhaler 

I love how this tune mixes dance music and rock music. You've got great production elements that you'd come across in the world of DJs, but you've got this Niall Rodgers-esque guitar part driving it on by Josh Jenkinson. It's complimented by beautiful, soft chord voicings coming from Eli, which all sits on top of a proper biting bass by Rob Keating. Ryan then just smashes out a proper dance beat, and the whole thing is class. 
8. Gamesofluck - Parcels 

This is a banging dance track. I love the combination of dance music, and music with umph and spirit. It makes me feel a vague emotion. It makes me just feel generally emotional and I don't know why, but it does. The track never actually gets too loud or intense. And I Think it's so impressive that it feels like it does, when it actually doesn't. 
9. You're Gonna Lose Us - The Cribs 

Well now this is just banging. One of my favourite vocals ever. The guitar lines are absolutely class. The dynamics are amazing. The verses are so chilled and lovely, and the chorus just slaps so hard then. Again, it's such an emotive tune. But also fun and catchy. I love when a song is fun and has good energy, but also somehow evokes these emotions unexpectedly. 
10. I'm Not Made By Design - Nothing But Thieves 

Nothing But Thieves have been one of my favourite bands for years, and I think this song captures all the reasons why. It's got Dom driving a really rhythmic, dirty guitar, with Conor Mason sitting on top with an angelic vocal. The two elements are so contrasting. The drums are doing absolutely mad bits, and the verses are so intricate and have quite an unstable feel to them or something. And then this massive chorus kicks in and all feels right. It's the bridge that 
gets me though. The bridge is just THUNDEROUS. Everything sounds so huge, and Conor's vocals are outrageously powerful. A proper head-banger.