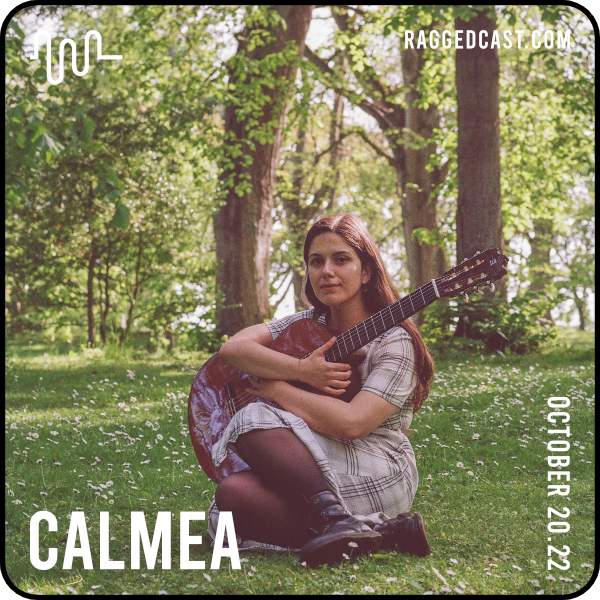 Eunice Saraiva's (frontwoman of Dublin band of all living things) debut self-released EP under her solo moniker Calmea. Originally from Lisbon, Portugal, Eunice has been living and making music in Ireland for 5 years. While still releasing and performing with the band, she is now undertaking a more personal and gentle approach to her music. Calmea is a made-up word, similar to the Portuguese adjective 'calma', meaning to be relaxed and at peace. This alias felt fitting due to the ambient folk, ethereal and textural sound Eunice created in this EP, alongside sound engineer, and producer, Ber Quinn. 
She draws inspiration from acts such as Cassandra Jenkins, Indigo Sparke and Sea Oleena. 
"During the first lockdown, I went back home to Portugal for a couple of months and, while dealing with feelings of estrangement, rented a small house in the countryside. I was alone, doing a lot of introspection on what it means to belong to two different homes and yet to feel so isolated. After weeks of not being emotionally able to create, these songs happened all at once on the morning of my last day there. They belong to each other."
---
Cassandra Jenkins - New Bikini 
Cassandra Jenkins is my latest big music influence. I came across her album 'An Overview on Phenomenal Nature' at the end of summer 2021 and have been very inspired and in awe with her since. This particular song is very special to me, in the way her vocals tell such a detailed and mantra-like narrative by relying on just two chords the whole way through. The song's melody and harmonic progression are minimal and repetitive, yet the stunning arrangement and textures underneath lead the nostalgic and introspective tone of the song.  
Indigo Sparke - Everything, Everything 
I discovered Indigo Spark's album 'Echo' at a similar time as Cassandra Jenkins', both their music remind me of dear memories from that same summer. 'Everything, Everything' is probably the track on this list I referenced the most when recording and mixing my EP with Ber Quinn. For the song 'To Move (On)', we tried to recreate a similar vocal texture by using an analogue tape echo which Ber modulated live as I sang. This was done in one continuous take as we wanted to capture the inimitable moment between my vocals and the reverb. The broken piano chords on this song were also an important reference for the upright piano I played on 'Under Your Garden'. We recorded it open and closely mic-ed in order to capture the organic sound of the little piano hammers hitting the strings. 
Green-House - Peperomia Seedling 
I have been listening to a lot of ambient and contemplative music lately and have recently found it easier to draw inspiration from sounds and textures. This particular album 'Six Songs for Invisible Gardens' was very important in the making of the EP, mainly because it was what I would listen to when I needed to settle and deal with the feelings I wanted to express in these songs. 'Peperomia Seedling' was a crucial reference for the song 'Where To' when layering all the different textures and soundscapes in the song. To me, 'Where To' always had a floating/drowning mood to it so I wanted to include similar waves and water sounds, as well as found sounds previously recorded by me and Ber. The kalimba I play live in 'Where To' was also inspired by the bells in this song, to provide a dreamlike quality to it. 
Hana Stretton - The Thrill of Loneliness 
This song is also very special to me. I have fond memories of going for walks in early spring 2021 and peacefully sitting in the park listening to it. 'The Thrill of Loneliness' expresses melancholia in such a soothing way, it's definitely the type of music I am drawn to. The rawness of the recording and use of natural ambience were an inspiration for the recording of 'To Move (On)'. In that song we wanted to include all the organic sounds that a live take would entail: an old classical guitar, strings buzzing, chair squeaking, breathing in between vocal lines and a natural room sound. 
Sea Oleena - Everyone with Eyes Closed 
I feel it's no coincidence I came across all these beautiful female artists at the end of summer 2021. Sea Oleena was probably the most impactful one on the music I make, when I listened to her album 'Shallow' for the first time I knew this was the music I always longed to find. 'Everyone with Eyes Closed' seems unassuming and gentle, though the multilayered textures and mixing of the track are nothing short of complexity. Sea Oleena was an important reference for the backing vocals on 'Where To', I wanted them to sound like mermaids singing underwater. 
The Beatles - Because 
While the previous songs were direct references to my debut EP, these next songs are some of my favourite music / albums of all time and certainly have impacted me as a musician subconsciously. I pay a lot of attention to stereo mixing and enjoy the immersive experience of recorded music, as it moves from one ear to the other. The Beatles made me fall in love with stereo and 'Because' made me fall in love with them. I still remember being about 12 and having my mind blown experiencing it for the first time. All the harmonies, stereo guitars and trippy tone of the song are a huge inspiration, always and forever.  
Radiohead - Nude 
'In Rainbows' is very very very high up on my favourite albums of all time list. Thom Yorke's vocals and Ed O'Brien's guitar playing are two of the main reasons I started writing music. I only really dove into Radiohead's music when I was about 19. I was immediately sucked in to their world building arrangements and would have the same songs looping on my headphones for hours every day. 'Nude' is also one of my favourite songs and vocal performance ever. It was the first time I properly noticed the bass on a track and have been obsessed with melodic basslines and that specific tone since. 
Big Thief - Open Desert 
Adrianne Lenker is such an inspiration both musically and spiritually to me, I've learned a lot from her honesty and kind self-acceptance. My first introduction to Big Thief was quite special too, I was unaware of their music until someone approached me after a performance with our band 'of all living things' and said we reminded him of them. I listened to the 'Masterpiece' album that night and was overwhelmed with such comparison. Since then I have regularly referenced Adrianne Lenker and Big Thief in both my solo and band music. It was hard to pick just one song for this list, though 'Open Desert' is an absolute favourite due to its fragile vocals and hypnotic soft fingerpicking. 
Yo La Tengo - Tears Are In Your Eyes 
And now, possibly my favourite album on this entire list, 'And Then Nothing Turned Inside-Out'. Yo La Tengo are a band I only discovered after already be writing and making music for a couple years, though the moment I first listened to their music, which was this specific song, completely changed my approach to songwriting. They are probably the most important piece of the puzzle that shaped the music I now make. The patient builds, simple yet beautiful chord progressions, healthy amounts of reverb and slowcore quality to it really inspires me to be the musician I am today. And in a full circle moment, it's important to mention that Yo La Tengo were introduced to me by Danilo and Cian from our band 'of all living things'. 
Of All Living Things - If I Go 
Last but most definitely not least, I had to conclude this list with my personal favourite song we wrote together as a band. I would not be the musician I am today if it wasn't for 'of all living things', I have learned and grown musically so so much by being their friend and band member for the past 4 years. Cam, Cian and Danilo inspire me deeply with how each one of them individually writes and experiences music. A whole lot of admiration to Ber Quinn too for being a proper dream to record and be creative with, who's also an instrumental piece to the music I make.