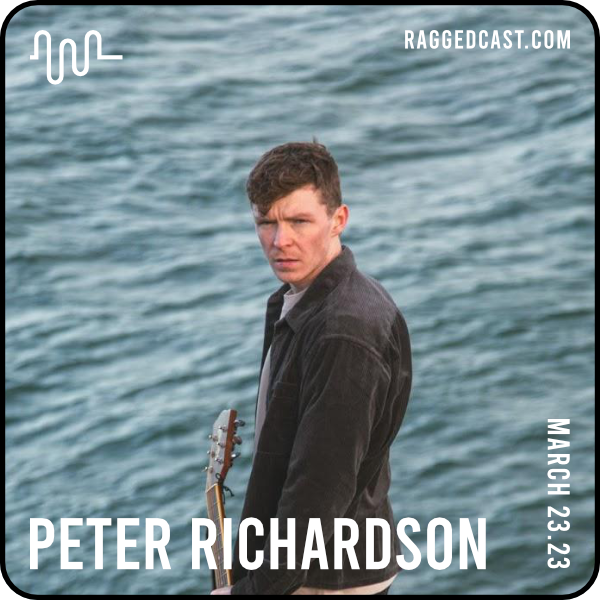 Peter Richardson is a 23-year old singer/songwriter from Dublin. An avid songwriter since the age of 15, Peter grew up surrounded by music. After testing the waters with his original songs at a college open mic, Peter began properly recording his music at home in the summer of 2020. A few months later in October he released his debut single, "The End of The World", an indie folk ballad filled with choral vocals and stirring, apocalyptic lyrics and instrumentation. 
Peter's dramatic sound draws from a wide range of influences, drawing on the poeticism and varied sounds of artists such as Fleet Foxes, Bon Iver, Hozier, Lorde and Ben Howard among countless others. Peter also draws influence from great Irish folk singer-songwriters, such as Paul Brady and Declan O'Rourke.
April 5th will mark the release of Emily, the first of a series of songs created by Peter and Drogheda-based producer Daniel DeBurca. Following a spell focussed on writing last summer after the success of his debut headline show at Whelan's, the pair began working together in late 2022 on this next batch of material, and in the months since then Peter has been in JeJune Studios recording, honing his sound and taking his production to the next level. The track features fellow Dublin artist Anna Leah, a ground-breaking singer/songwriter who with her stunning, delicate vocals brings an aching beauty to the track, blending with Peter's strong vocal and instrumentation to further hammer home the tragic lyrics. The song will be released just a few days before Peter's returning headline show in The Sound House on Friday the 7th of April
---
1.     Helplessness Blues – Fleet Foxes 
I'd include this whole album if I could. This song opened my eyes as to how much songwriting can truly portray, it says so much about life and our place in it, and inspires me every time I put it on.
2.     Work Song – Hozier
A classic, and one of my all time favourites – I have such clear memories of breaking down the lyrics in this, trying to imagine how he could write something so beautiful and if I could ever do the same. I mean, come on, 'No grave can hold my body down, I'll crawl home to her', how do you come up with this stuff. All hail Hozier.
3.     Old Pine – Ben Howard
 The ultimate summer morning song – a lot of my music's a bit depressing I know, but I constantly aspire to write something that can match the joy you feel listening to Old Pine as the sun bursts through an open window on a Sunday morning. We'll get there some day.
4.     A World Alone – Lorde
 Another case of really struggling to pick which song off an album to include. 'Pure Heroine' is a masterpiece from start to finish, but this final track was always special to me. 
5.     Imogen – Nick Mulvey
I struggle to describe how often I listen to this song, I think on my Spotify stats it's my top of all time. Nick Mulvey's infectious, mellow acoustic sound just never gets old and is something I am striving to emulate, in fact it was a big influence for 'The Coast'. I still have no idea what this song is about but whatever it is it's incredible and I can't get enough.
6.     The End of the Movie – Stornoway
Stornoway's debut album 'Beachcomber's Windowsill' was the epicentre of my musical upbringing and influences everything I do. One of my dad's favourite albums, we played it at home non-stop. It was my first taste of songwriting that truly resonated with and moved me, and I love it from start to finish. This was one of the first songs that I learned and performed in front of people growing up, and loved it every time.
7.     Like The Dawn – The Oh Hellos
Another summer morning banger. The use of imagery with nature and sunlight in this song is something that really inspires me, it's one of my favourite tools in writing. 'You were the brightest shade of sunlight I've ever seen' just gets me every time.
8.     Perth – Bon Iver
A musical masterpiece, completely shattered my understanding of what a song is supposed to be, from structure, instrumentation, you name it. Justin Vernon proves here that there are no rules in music, and it's incredible.
9.     Galileo – Declan O'Rourke
I tend to say this a lot, but arguably one of the most beautiful songs ever written (in my opinion to be fair). We listened to a ton of Declan O'Rourke growing up and this is one of my earliest memories of being completely moved and blown away by a song. The 'Since Kyabram' version will always be number one for me, apologies RTE symphony orchestra.
10.  Golden Slumbers – The Beatles
Finishing off with a classic, you can't have a list like this without The Beatles. I'm putting this in as I only have room for one song, but the medley of this, Carry That Weight and the end at the end of Abbey Road is a masterclass in everything, you just can't beat it