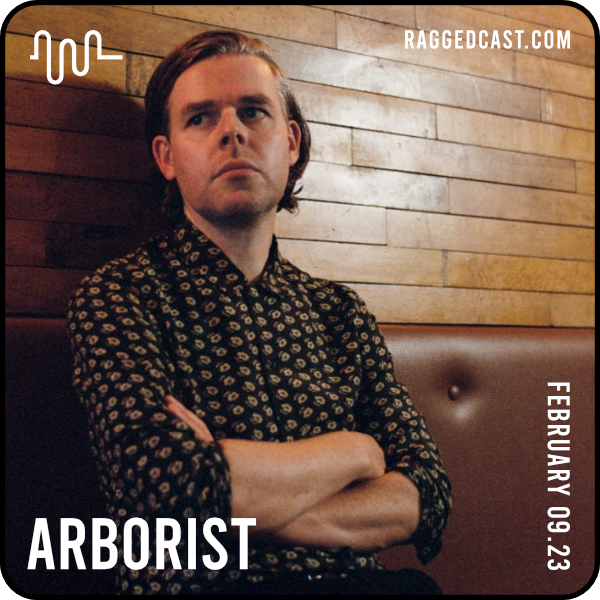 ARBORIST, aka Belfast native Mark McCambridge, is on his third album An Endless 
Sequence of Dead Zeros which released 21 April 2023. Produced by Matthew E White at his Spacebomb Studios in 
Richmond, Virginia and bearing all the hallmarks of his sound and that of the Spacebomb Houseband, it sees 
ARBORIST merge a driven experimentation with a classicist approach to song structure and melody, with 
esoteric lyrical themes born out of the fugue of the last few years and evoking a dream-state.
For fans of John Cale, Bill Fay, Howe Gelb, Lee Hazelwood, Dylan's Nashville Skyline, Wilco's A 
Ghost Is Born and The Go-Betweens. 
First single 'Dreaming In Another Language' is a spiralling, looping slice of kaleidoscopic psychedelic 
Americana which mediates on dreams and our submission to a dreamlike state, touching on many of the 
album's themes: religion, family, death, artistic life. The hypnotic nature of 'Dreaming In Another Language,' is perfectly accompanied by the video from director Sam O'Mahony, featuring ARBORIST playing a protagonist in a looping dream. "The visual reflects the song's lyrics without representing them literally." explains O'Mahony, "It invites the listener to disappear into their imagination and crosses the boundary between fantasy and reality". 
ARBORIST expands ""It taps int the song's continuous guitar loop, there are three different versions of myself 
seemingly condemned to repeat the same actions over and over; from birth to death to rebirth, colliding with 
each other along the way." 

An Endless Sequence of Dead Zeros is ARBORIST's third album following his critically acclaimed debut 
Home Burial (2016), which included his Kim Deal duet 'Twisted Arrow,' and the follow up A Northern View 
(2020). ARBORIST has supported the likes of James Yorkston, Cat Power, Low, Echo & The Bunnymen and Guy Garvey and played a series of solo headline tours. ARBORIST recently played a sold-out tour in late 2022 alongside The Delines with a full-band UK/European stretch planned for 2023.
---
John Cale – The Man Who Counldn't Afford to Orgy
John Cale comes in many guises. This is most definitely Playful-John which may be my favourite version. Taken from a magnificent album to boot. The delivery of the word "orgy" (say it) in particular always raises a chuckle. Going to see him live in Liverpool next week. He's a master. 
Bill Fay – Be Not So Fearful
I was listening to a lot of Bill Fay before recording the latest Arborist record. This song just has a simplistic beauty to it with heavenly strings and refined lyrics. Like John Cale he has a tendency to distort some of the prettier elements in his songs but he left this one alone, maybe that's why it's so short. 
Nina Nastasia – This is Love
I love all of her albums but this, her latest from last year, is much more stark than the others but no less powerful for it. One person, acoustic guitar and vocal is, despite its ubiquity, a hard thing to do well so it's a testament how great her songwriting and vocal are. When I first heard this it hit that sweet spot where I felt like I had heard it before but obviously hadn't. Its subject is dark but addressed poetically. 
The Go-Betweens – Bachelor Kisses
Grant McLennan had most of the poppier numbers on The Go-Betweens' records, this being a prime example. The production is very of its time but there is no denying great songwriting. Him and Robert Forster produced some amazing solo offerings too with Robert still churning them out. 
Ivor Cutler – Egg Meet
Ivor looms large in my house. My kids are big fans, naturally. He was a man ahead of his time and although this is not a song it still contains all the humour, flamboyance, wit and charm of many of his compositions. 
Susan Cadogan – Hurt So Good
A friend made me a Lee 'Scratch' Perry compilation a while back and I got lost in it. This song appeared on a vinyl compilation I bought off the back of that. The song is by Millie Jackson and definitely has an air of soul about it.  
The First National Band – Joanne
Former Monkee, Michael Nesmith died at the end of 2021. A incredible songwriter who laid the ground for a lot of contemporary "Americana / Alt-country" music. This first First National Band record is a particular highlight. His mother also invented collection fluid and became a millionaire. 
Rozi Plain – Symmetrical
There is something effortlessly cool and unique about Rozi Plain's records. I've been listening to a lot of her new one - sounding great - but What a Boost from 2019 is one of my favourite records of the 2010s. Her luxurious, pillowy vocal and warm synths are easy to get lost in. 
Jacques Brel – Jaures
This is not typical Brel but it's wonderful, which says it all about what a diverse songwriter and interpreter of songs he was. I used to live in the south of France and still have family and friends there, so fell in love with Brel on my many trips. This is taken from Les Marquises which is superb start to finish. 
The Delines – The Imperial
I had the luxury of opening for The Delines over a fortnight in November 2022 which was such a huge pleasure. Amy Boone's has such a timeless voice especially on songs like this and Willy Vlautin is an incredible writer (see novel Don't Skip Out On Me). Surround them with great musicians and you've got yourself a H.I.T. And their lovely people to boot.