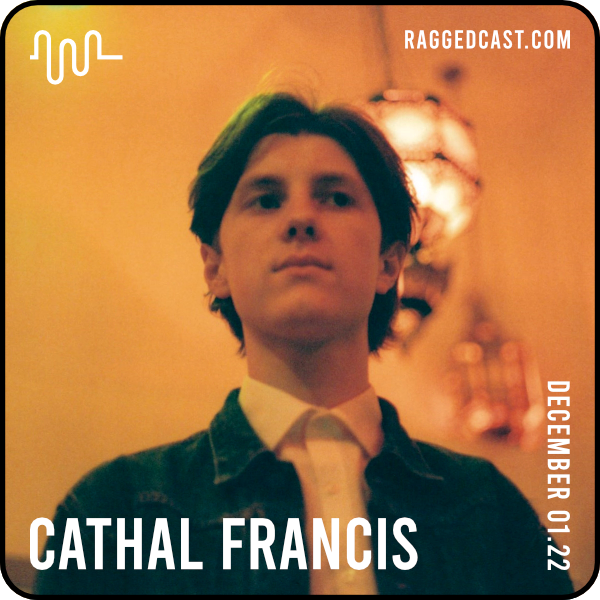 Cathal Francis is a twenty-two-year-old independent indie folk singer-songwriter from the border townland of Culmore in Derry, Northern Ireland. His songwriting and soft fingerpicked guitar playing style has largely been influenced by listening to the work of his idols: figures such as Adrianne Lenker, The Beatles and Elliott Smith. His songs have been featured in Spotify's A Breath of Fresh Éire editorial playlist, as well as Chordblossom's Fresh Music From Northern Ireland, YEO Magazine's GET ON IT, and Hot Press Magazine's New Irish Songs playlists. He plans to release more music in the new year, following the release of Rewind. 
---
About A Girl – Nirvana 
About A Girl is my favourite song of all time! Kurt Cobain was frightfully talented at writing melodic, no-frills, heavy pop songs, and I think this song epitomises that. I love how simple and effective the guitar part is in supporting the vocal melody and I really like how the tonality is in a bit of an ambiguous place – it's not quite major or minor which heightens the melancholy feel of the song. This song acts as a reminder for me to make decisions that truly "serve the song" when I'm writing my own music. 
Alone Again (Naturally) – Gilbert O'Sullivan 
I absolutely adore Alone Again by Gilbert O'Sullivan. I would go as far as to say that it has one of the best chord progressions ever written – there are so many cool changes in there! I'm a big fan of chord progressions that are constructed with chromatic movement built into them and this is a prime example of that. It's just perfect! 
Confusion – The Zutons 
Confusion by The Zutons was the very first song that my guitar teacher Sean taught me to play when I was eleven. Any time I hear it, I'm reminded of how blessed I was to have such a great teacher. He laid the foundations for me to have the ability to write and play my own music and I'm forever thankful for that. 
Creep – Radiohead 
I think Creep by Radiohead is another perfect pop song! When I heard it for the first time, I was just blown away by the chord progression, especially that wee major-to-minor change on the last chord. I'm a big fan of the Nirvana-esque "loud-quiet-loud" dynamics too. Like About A Girl, it's one of those songs with elements that serve the song perfectly. 
Everybody's Talkin' – Harry Nilsson 
The whole Midnight Cowboy soundtrack is phenomenal, but I just love Everybody's Talkin' in particular. It's beautiful. Just like Alone Again, there are lovely wee chromatic lines baked into the chord progression which really grabbed my attention when I heard it for the first time. Harry Nilsson is another dab hand at writing those kinds of progressions, his song I Guess the Lord Must Be in New York City (which was also considered to be featured in Midnight Cowboy) is another great one. 
Guaranteed – Eddie Vedder A few years ago, my dad and I watched Into the Wild together and the whole time I was in sheer awe of Eddie Vedder's soundtrack. I really obsessed over the song and tried to learn it on my guitar as soon as the film was over! This song was my introduction to fingerpicking on the guitar, so it was instrumental in helping me develop my own personal style of playing. 
Indiana – Adrianne Lenker 
I was listening to an awful lot of Adrianne Lenker when I was writing the songs for my EP, and this is my favourite song of hers. I was really anxious about releasing music with just acoustic guitar and voice, thinking that it might sound too plain, but I found great comfort in the fact that she had done it successfully. 
Music Box – Leith Ross 
Leith Ross is one of my favourite current singer-songwriters, and this is my favourite song of theirs. There are so many gorgeous chord changes in there and their voice is one of the most soothing voices I've ever heard. My sister and I saw Leith play at The Empire in Belfast in the summer and it was so surreal! 
Say Yes – Elliott SmithHearing Elliott Smith for the first time was a genuine watershed moment for me. I checked him out for the first time a few years ago when I couldn't sleep one night, and my mind was completely blown - Say Yes was the first track I stuck on. I have never been a confident singer and I've always preferred singing softly as opposed to projecting my voice. When I first heard Elliott's lovely soft voice, it felt like I'd been given permission to be myself and sing in the way I found natural and most comfortable. 
This Boy – The Beatles 
This Boy is easily my favourite number by The Beatles, I'm so surprised that it didn't make any of their studio albums! I love how it features John, Paul and George all singing together because that didn't happen very often. This song has taught me a lot in terms of singing multiple vocal harmony parts and creating interplay between guitar parts by layering different chord shapes on top of each other. It's a 10/10 song for me.