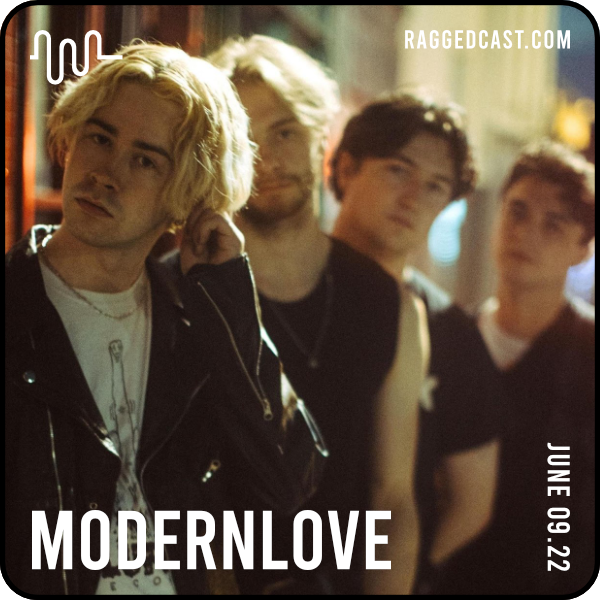 After a flurry of praise for their recent singles 'Don't Wanna', 'Us' and their Valentine's Day delight 'Follow You' earlier this year, which have since found support from countless tastemakers including Wonderland, Hot Press, Official Charts, Under The Radar and many more, Irish indie-pop-rockers modernlove. have now announced the details of their eagerly-awaited new EP 'Oh My Mind', which arrives on July 29th through Akira Records (Phoria, Henry Green, Mt. Wolf, Rosie Carney, Shura), alongside the heartfelt new effort 'Islands'.
---
Graham : Something - The Beatles 
This was kind of the first song I remember hearing and wanting to be able to play on the guitar which then introduced me to a whole new love for sitting down and learning new songs and got me into trying to learn guitar solos and pushing for more difficult ways of playing 
Dionne - The Japanese house 
I just love everything about the Japanese house and she is someone we as a band take a lot of inspiration from but this song stood out to me the most because of the heavily effected vocals in the chorus. I remember the first time I heard it we were sitting around the table at our practice space and it made me want to cry 
Mothers talk - Tears for Fears
These guys are absolutely one of my favourite bands my dad used to always play their stuff growing up a child but I've only recently started properly listening and I love them I could easily choose any song but this one stands out from others for me mainly because of the drums and vocals as they portray a very angry side of the band that modernlove will definitely show in later songs 
Barry : This modernlove - Bloc party
This was the song that most encapsulated the sound and vibe I really wanted to emulate. I remember hearing it for the first time and immediately thinking "That's it, that's the kinda music I wanna make". It just really captures what it's like to be young and in love and trying to figure your life out. 
Close to me - The Cure
I remember the first time I ever heard this song. It was right after my first break up, I couldn't eat or sleep and it lent me some solace. It felt like a lullaby. I love how it sounds like it was recorded on children's toy instruments and then is juxtaposed by these devastatingly melancholy lyrics. 
It's nice to have your feelings and moods mirrored in songs, it makes you feel less alone and less crazy sometimes. 
With or Without You - U2 
I just love U2. They're one of the first artists I remember ever listening to. My brothers and I used to fall asleep to our parents old U2 CDs. 
There's some artists and songs that are the reason you began to love music as a child and U2 are that for me. With or without you is just so heartbreakingly beautiful. I think when a song is that popular and universal, it's easy to become desensitised to the meaning in the lyrics and the artistry of the music but it's never gotten old for me.
Cian : Before - James Blake 
I remember the first time I heard this song it just blew me away. The way in which he uses samples and sounds so sparingly yet somehow manages to make a song sound massive has always been something that I've admired about James Blake, particularly in this song. Songs like LMK off of our first EP were definitely inspired by Before. 
Feeling this - Blink 182 
It's one of the first songs I remember loving as a child, and the older I get the more I appreciate it as a song. The way the drum beat, bass line and guitar are all playing totally different things, yet all combine together to make such a full sound, is something that really influenced me. This song also taught me a lot about song structure. 
Disintegration - The Cure 
There's so many songs by The Cure that I could have picked, I think this song off of the album of the same name just sums up why I love them so much. It's an 8 minute song that has one bass line go over and over again with a drum beat that doesn't change, but as the song progresses more parts get layered until it becomes this beautifully massive heart breaking song. The way they blend catchy dancey beats with really sad hopeless sounding music really influenced the way I write for the band. 
Danny : Ape dos mils - Glassjaw 
Daryl Palumbos overly dramatic vocal performance on the song was something that pulled me in when I was in my teens and it's something that has stuck with me over the years. The song reminds me that sometimes it's better to abandon subtlety and allow yourself to be melodramatic. His emotive melodies are something that influence me when writing music. From a production standpoint, the bass and drums sound incredibly powerful. That bass and drum sound is something I've wanted to re create in modernlove. 
I never learnt to share - James Blake 
James Blake is someone who inspires us as a band. I admire his minimalistic approach to production and his attention to detail. The song is completely based around one simple refrain and it slowly builds to a breathtaking crescendo. What James Blake can achieve with one refrain and his careful selection of atmospheric sounds and samples is very inspiring. 
Ball and biscuit - The White Stripes 
When I was 7 years old my dad played 'Elephant' by The White Stripes in the car. I remember hearing the guitar solos in this song and it grabbed me. The crazily distorted guitar solos in the song initiated my interest in music and made me want to learn how to play guitar. So I guess I have this song to thank for encouraging my love for music. Without it maybe I wouldn't have had the same urgency to go join a band.