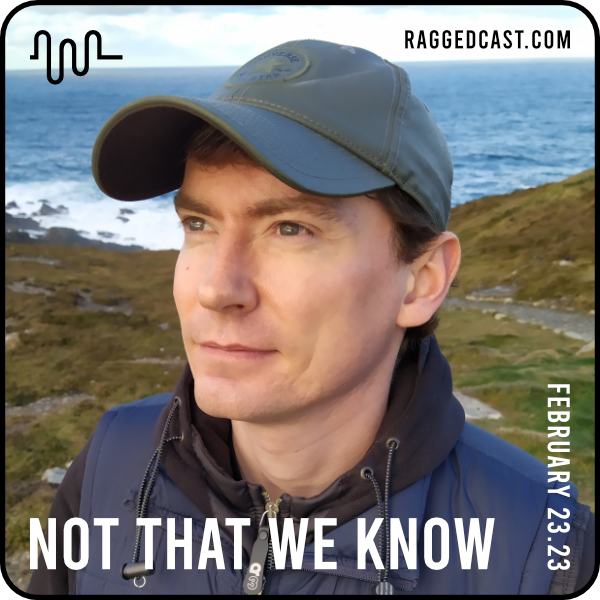 Not That We Know, aka Eoghan Farren, is an electronic music producer and DJ from Donegal, Ireland. He began producing electronic music as farback as 2012. Classically trained through his early years on piano, music has been a part of his life ever since. He is a multi-instrumentalist and includes guitar, bass and drums amongst his  
repertoire.  

A fascination with electronic music began when he attended a part time course in music production. Initially, he found genres like techno, dubstep and drum 'n' bass off-putting but came to appreciate those  harder styles when learning about the level of detail that goes into each. Thus, he admits the closest genre to fit his current style would be progressive and melodic techno.   

His stage name, Not That We Know, comes from those big, existential questions we all face at different times in our lives. The answers to which none of us truly know.  

---

Deadmau5 - Strobe
   
Above all others, deadmau5 is the artist who really inspired me to start making electronic music. Strobe is possibly my favourite track of his. The way it builds from the beginning with beautiful chords to the anticipated and incredibly satisfying drop is amazing. It's one that will stay in my saved library forever.  

Nicky Romero - Toulouse  
 
I came across Nicky Romero's Toulouse early on when I really started getting into electronic music. The opening melody is so catchy and enjoyable. The drop came as a bit of a shock, especially when I was just starting to listen to EDM, but overall this track really stood out for me.  

Skrillex - Summit (feat. Ellie Goulding)  


Summit is one of the first Skrillex songs I heard and I was immediately drawn to the synth melody. It's very catchy and sounds so crisp and clear, something I wanted to emulate in my own music. Ellie Gouldings accompanying vocals are also beautiful.  

Avicii, Nicky Romero - I Could Be The One  
 

I remember standing in a shopping centre in Manchester one day and this song comes on the speakers. I'd heard it before but for whatever reason the melody caught me off guard and I got super chills. I imagined playing it out to a packed crowd and the chills got even bigger. It'll stay with me for that reason.  

Deadmau5 - Pets  
 
deadmau5 again, maybe with my second favourite track of his. The melody is so beautiful and almost calming in a way. I remember seeing a YouTube video about the Gumball 3000 rally in Miami Beach, in which deadmau5 was  
taking part, and this song was soundtracking it. The super cars, people and great weather were are perfect match for it.  

Trent Reznor and Atticus Ross - Hand Covers Bruise  
 
The piano melody in this song is sublime. It's simple but powerful. I heard it for the first time when watching The Social Network movie in the cinema. One of the reasons for going was because it was soundtracked by Trent Reznor and Atticus Ross and this track was the stand out one for me. I desperately wanted it to take off with a wicked beat when the bass note hits but maybe that's just the musician in me.  

Nine Inch Nails - Echoplex  
 
Nine Inch Nails are one of my favourite bands and Echoplex is one of my favourite songs but what really captured my attention was the HD multicam YouTube video of them playing it live in Sacramento. They had a giant drum pad screen as a backdrop and it was filled in one beat at a time, really building up momentum, before launching into the song. The way the extra bass note gets added in after the short breakdown is also a stroke of genius in my opinion.  

Nine Inch Nails - Copy Of A  
 
Copy Of A is another favourite NIN song of mine. There's quite a few videos on YouTube of them playing it live in concert but the Live at Rock 'n' Heim 2013 one in particular stands out for me. They open their set with it. Just Trent Reznor with a synth controller adjusting the envelopes, once again building anticipation, until the kick comes in and things really get going. I try to keep these inspirational moments in mind when creating my own music.  

The Prodigy - Invaders Must Die  
 
The Prodigy are a band I've grown to love over the years. I was less than impressed with their 1994 album Music for the Jilted Generation (as a ten year old I might add) but their high octane tracks are possibly the catchiest of any band I know. I especially like Invaders Must Die because of the intro. I like how tracks start out subtle and then build and build. It's something I experiment with when making music.  

Fred V & Grafix, Amy J Pryce - Ignite  
 
Fred V and Grafix's 2016 album Oxygen is one of my all time favourites and Ignite is my favourite track on it. It's a really emotive one for me. I've actually created an entire music video in my head for it. It's music that captures my imagination and no doubt affects how I make my own.