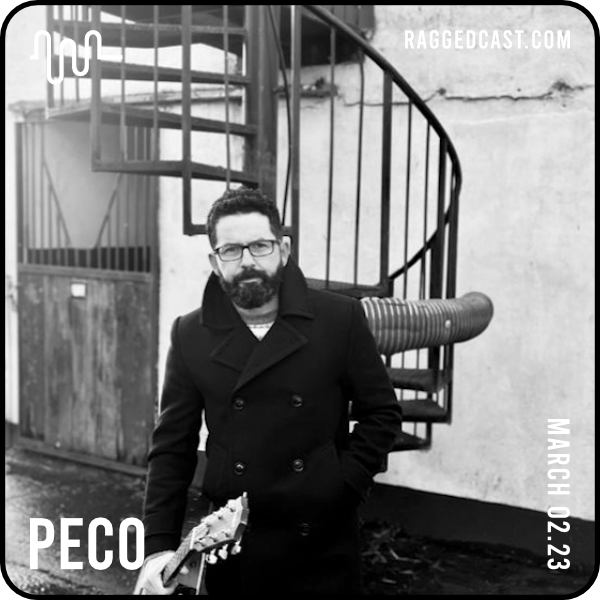 Peco is an Irish artist who's music is a blend of Folk, Americana and Indie-Rock. His songs combine strong melodies with insightful and imaginative lyrics. Peco has something to say but likes to do so with a hook or two.
Hailing from County Kildare in Ireland, Peco draws inspiration from the culture, the land and the people around him, both dark and light. He has a long and varied history in the music world, playing in bands since he was a teenager, crossing genres of Rock, Americana and Folk music. 
He released his debut solo EP 'And So I Arrived At The Start' in October 2017 and his debut solo album, 'The Middle Ages' was released February 2019. His 2nd album, 'Miniature Leaps of Faith' is out later this year and his latest single 'Where are the Lifeboats?' was released recently on Jan 20th.
---
1) Wilco - Impossible Germany
I never tire of Jeff Tweedy and his crew. Creativity literally pours out of the man and his prolificness is to be admired. Wilco always take the song somewhere unexpected, in the music, the melody or the lyrics and I love that. This song has one of my all time favourite guitar solos and the combination playing between Jeff and Nels Cline is sublime. Melodic but all ragged round the edges like they can barely contain the melody. Love it.
2) Bob Dylan - Shelter from the storm 
I've been a huge Dylan fan since I was a teenager and I constantly go back to his huge repertoire. I literally could have picked any of 100 songs but I was listening to this recently and the simplicity of the music matched with the powerful story-telling transports me to that strange americana world of another lifetime, every time.
3) The National - Mr November
I really like their songwriting style and the intricacy of the arrangements. Plus they are one of those bands where the drummer really makes their sound. This song is all angst and energy and false bravado but also celebratory at the same time. I remember seeing them live for their first Irish gig in the Olympia when they were touring The Boxer album. It was one of those special nights where a band is overwhelmed by the support of the crowd. 
4) Josh Ritter - Henrietta Indiana
Very much in the Dylan vein, he is a brilliant storyteller in his own right. This song is like a short movie. The story, the dark atmosphere and the emotions all perfectly conveyed in a concise few verses. 
5) The Clash - Train in Vain
I love the trademark swagger and attitude of The Clash and that's here by the bucket full. So much more than a punk band, the song shows how they brought elements of reggae, soul, and RnB together with English punk and topped it all off with great melodies! I remember hearing this for the first time and wishing I could have seen them live in their heyday.
6) Jason Isbel - If we were Vampires
One of those songs that is so well written it doesn't need much on the production side. Just a really tasty acoustic guitar going along with the melody and a cello. A dark love song from a very different and realistic point of view. Isbel is a reminder of what country music should sound like.
7) Nick Cave & The Bad Seeds - Jubilee Street 
The dark prince himself with his band of swaggering blackguards. A song of a man who's been around, seen it all and tells it like it is. No shying away from the seediness and messiness of life. I love when the music has been building in intensity throughout the song to when it suddenly changes tempo and you're carried off with it. Amazing song to get lost in.
8) Raglan Road
I believe that we're so steeped in music as a people that if you scratch the surface of any Irish artist, no matter the genre, you'll find some traditional influence. It might just be in the phrasing or the attitude or the emotions conveyed but it'll be there. This song is so pure. The words of Patrick Kavanagh are so naturally Irish and poetic and so full of longing. Luke Kelly's vocals are just amazingly evocative. Dublin is brought to life in the story. One of the best folk songs ever written in my opinion.
9) Van Morrison - Sweet Thing
I have no idea what the lyrics are about or what he's even saying most of the time but it doesn't matter. I still love this song. The warmth of it, the hypnotic and mercurial playing of the amazing house band. Always stops me in my tracks.
10) Leonard Cohen - Chelsea Hotel #2
Like Dylan there's so many amazing songs to choose from. His lyrics and his songwriting are that of a master. This one in particular has some absolute gems, 'We are ugly but we have the music.' Irreverent and beautiful yet there's always a subtle smile and a sense of humour in there as if to say, 'Don't take it so serious, it's only music.'